Garden News at The Orchid Show
Posted in The Orchid Show on March 13 2014, by Lansing Moore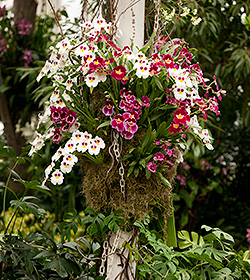 For about a week now the Enid A. Haupt Conservatory has been plunged in the colorful escape of The Orchid Show: Key West Contemporary. Our first Orchid Evening already took place last Saturday, and visitors have been pouring in to see the many varieties of orchids on display since the exhibit opened on March 1.
The day before it opened to the public, Kevin Character stopped by Members Day, where Garden Members were enjoying an exclusive preview of The Orchid Show. Early reviews were very encouraging. Some members called it the best Orchid Show yet, and they should know! Click through for this exclusive video tour of the unique design concept and varied special programs surrounding The Orchid Show: Key West Contemporary.


Kevin asked visitors for their favorite part of the exhibit, and even spoke with Jimmy Kenny and the Pirate Beach Band, the musicians whose "trop-rock" completes the Floridian experience. Come enjoy the tropical tunes and more at the Orchid Show!