An Urban Farm Flourishes on the Grand Concourse
Posted in Learning Experiences on August 27 2014, by Ursula Chanse
Ursula Chanse is the Director of Bronx Green-Up and Community Horticulture and Project Director for NYC Compost Project, hosted by The New York Botanical Garden. For more information about these programs and upcoming workshops and events, visit Bronx Green-Up.
---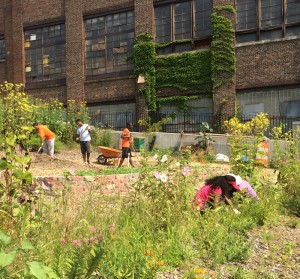 On a sun-baked day in July 2012, we stood outside a new vacant lot, completely sterile and void of any plant or animal life, but there was an urban farm to come…
The International Rescue Committee (IRC), an organization that provides critical services to refugees and asylees, had signed a lease with the NYC Department of Transportation, envisioning a new community farm to support their clients and also benefit the surrounding community. They asked for the help of our program, Bronx Green-Up, the Garden's community gardening outreach program which has helped create community gardens, school gardens, and urban farms in the Bronx for more than 25 years.
There was promise from the start. On one early visit I bent down to pick up a plastic bottle near the entrance when I noticed a small piece of paper tucked inside—surely, it couldn't be a message—but yes, the words asked if we were starting a garden, and stated that the person would be interested in helping out.

After that, the IRC and Bronx Green-Up made community workdays available to the public, and steadily passersby stopped in, interested and often willing to lend a hand. Job training programs from Sustainable South Bronx, Osborne Association, and NY Horticulture Society all contributed. Students from FarmSchool NYC gave design and season extension ideas as part of their urban agriculture training. School groups have also played an important role, including the adjacent schools, KIPP Academy and Cardinal Hayes High School. Countless volunteers through NY Cares, our Bronx Green-Up program, neighbors and others have all been part of community workdays. NYC Compost Project hosted by The New York Botanical Garden lent composting expertise and the citywide program funded and managed by the NYC Department of Sanitation brought loads of free compost. Organizations including GreenThumb of NYC Parks as well as garden designer and Botanical Garden Board Member Edie Kean have also made valuable contributions.
This slideshow requires JavaScript.
Today, after the efforts of so many, the New Roots Community Farm at the corner of East 153rd Street and Grand Concourse is brimming with life. Honeybees (two hives are now onsite) are busy gathering nectar and pollen, while various butterflies—including painted ladies, black swallowtails, and red admirals—have been seen gliding and feeding on the site. Dragonflies have also passed through and wasps, bumble bees, and many other beneficial insects are now making their home here.
Since the site is set on a steep slope, we built two bioswales and a rain garden to absorb as much rainfall as possible. In addition to slowing erosion, managing stormwater run-off is such an important issue that we wanted to implement green infrastructure techniques to limit the flow of stormwater into NYC's waterways. The swales, planted mostly with excess native plants from the Garden's Native Plant Garden opening last year, boast mountain mint, Emory's sedge, soft rush, blazing star, great blue lobelia, cup flower, milkweeds, and Echinacea. The rain garden is filled with cutleaf coneflower, iris, common boneset, bee balm, tussock sedge, and tufted hair grass.
Food crops now fill the raised beds on site, overflowing with tomatoes, kale, watermelons, hot and sweet peppers, basil, eggplants, and bush beans among many others. Fruit trees, including cherries, figs, persimmons, pomegranates, and serviceberries have been planted.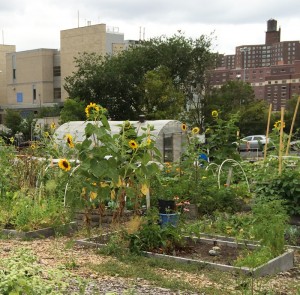 IRC's English classes visit the site regularly and IRC clients and community members tend their plots, while market beds are tended by IRC staff and community volunteers, providing fresh bounty to be distributed to arriving refugee families or brought to a community-run farmer's market.
Next time you are on the Grand Concourse, be sure to take a peek at all the activity, or perhaps catch a ride on the September 6 Bronx Food and Farm Tour which ends at New Roots Community Farm and the location of this year's annual Harvest Fair, which will feature BombaYo, fresh food from New Roots, an observation bee hive, harvest contests, and children's activities.