Zoom in on the Garden with Curator's Spotlight
Posted in Exhibitions, Gardens and Collections, Video on August 13 2014, by Lansing Moore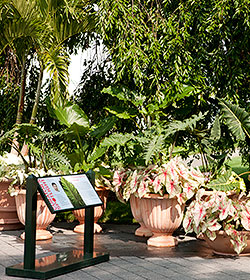 Visitors to the Garden will notice a number of small installations throughout the grounds as part of our new Curator's Spotlight series. Behind the many gardens and collections that make up NYBG's 250 acres is a legion of dedicated horticulturists and passionate curators, and for this new series we invited them to choose their own subject to focus on from the plant kingdom.
There is so much to see in the vast diversity of the Garden. Who better to guide our visitors and direct their attention to some of the individual beauty on display than the people who cultivate it? See the Garden through the eyes of its experts in this new video for Curator's Spotlight, in which Kevin Character overviews some of the fun new installations our curators have dreamed up. Hear from our own Christian Primeau, Manager of the Enid A. Haupt Conservatory, on why he chose to highlight the whimsical colocasia, also known as elephant's ear.
More videos are coming soon! In the meantime, keep an eye out for Curator's Spotlight installations on your next visit. See the full lineup here.