Passing It On: Food Growing Projects in Bronx Communities
Posted in Learning Experiences on November 25 2014, by Ursula Chanse
Ursula Chanse is the Director of Bronx Green-Up and Community Horticulture and Project Director for NYC Compost Project, hosted by The New York Botanical Garden. For more information about these programs and upcoming workshops and events, visit Bronx Green-Up.
---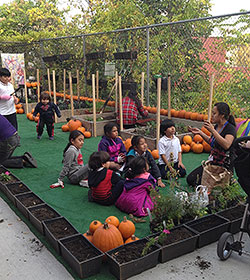 As the season comes to a close, vegetable gardens are put to bed and leaves raked up, Bronx Green-Up's (BGU) Grow More Vegetables Certificate students have been finishing their volunteer hours and final projects throughout the Bronx.
Our Grow More Vegetables Certificate Series (GMV), taught by BGU's Sara Katz, is an edible gardening course designed to equip community gardeners, teachers, and residents with the best organic techniques for growing vegetables safely and effectively. The program consists of six classes plus volunteer work at Bronx community sites where students can practice the techniques they have learned. As part of the course students design their own urban vegetable gardening project, which has two main goals: to grow more food and to pass on what students have learned to others in their community.
The P.S. 207 school garden is the final project of GMV student Consuelo Hernandez, whose son also attends this elementary school. In the spring, Bronx Green-Up and GMV classmates came together with students, parents and teachers to enlarge this container garden, building four raised beds and filling and planting them. Students wrote and drew expressive thank you cards after the planting day, excited to have participated, and shared their thoughts about the experience: "Thank you for helping with the garden," "I love how I touch the soil and other animals," and "I felt happy because this was my first time planting."
Throughout the spring and summer, school members weeded, watered, and harvested rainbow chard, red leaf lettuce, spinach, tomatoes, and bell peppers. As school started in September, first and second graders planted purple peacock broccoli and blue dwarf curled kale along with orange swiss chard and sugar snap peas. Most recently, Consuelo Hernandez planted native plants and daffodils with students, parents, and teachers, after pulling out the vegetables from the growing season.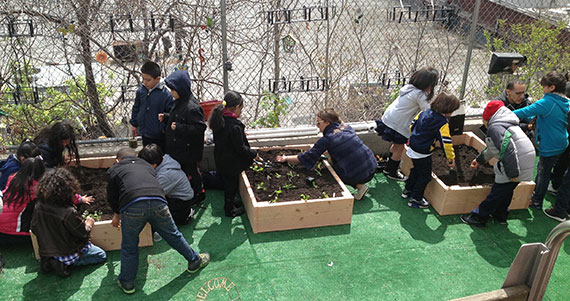 Other GMV projects include cover crop workshops at community gardens, seed starting workshops for a children's literacy program and the NYC Housing Authority summer program, and the implementation of a new gardening program at a housing development. Three GMV students have also taken on leadership roles in developing a new riverfront site in Co-op City, the River's Run Community Garden. Last week they held a ribbon-cutting event where they broke ground with a bulb-planting work day with residents. We continue to be inspired by these volunteer-based projects and look forward to seeing what our GMV graduates continue to grow and nurture in their communities.