The Pepper Queen of Bronx Green-Up
Posted in Learning Experiences on August 24 2016, by Zakiya Tyehimba
Zakiya Tyehimba was an intern with Bronx Green-Up, the community gardening outreach program of The New York Botanical Garden.
---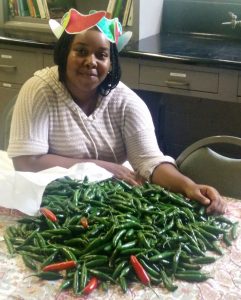 This summer I worked as a SYEP (Summer Youth Employment Program) intern for Bronx Green-Up. I've been working closely with both Bronx Green-Up and NYC Compost Project hosted by The New York Botanical Garden for the last six weeks. I'm sad to know my time with them is over.
I have had so many exciting, eye-opening experiences while working with Bronx Green-Up. One of my most memorable experiences is taking part in the Pepper Project. Bronx Green-Up collaborates with Small Axe Peppers and community gardens throughout the Bronx to create Bronx Hot Sauce, and I was put in charge of keeping track of how many pounds of peppers we received. Because of this task, I was crowned the "Pepper Queen." On my last day, I was even awarded a pepper crown!

Working with Bronx Green-Up is one of those amazing opportunities that you never forget. Not only did I receive gardening knowledge, I also received basic job skills and the knowledge of how to navigate the world after college. I'm really going to miss everyone and I have promised myself I'll be back to volunteer with this amazing team as soon as possible!