Black History Month Celebration at NYBG
Posted in Learning Experiences on March 5 2019, by Elizabeth Figueroa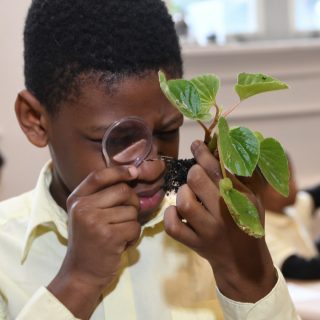 This past Wednesday, February 27, NYBG held its annual Black History Month event celebrating the accomplishments and contributions of African Americans.
Pre-registered school groups and visitors attended the workshops and presentations commemorating Black History Month. Facilitators led the following workshops:
Vickie Fremont: Students created African masks while learning about the fabric, beads, and shells as well as their significance in the African culture.
Mercedes Harris: Scientists, Educators, and Inventors: Students learned about the amazing scientific contributions of African Americans in this workshop through hands-on plant science activities.
Jaime Lee Lewis: I Am Beautiful: Visitors celebrated the beauty of African American culture through poetry.
Frank Malloy: Visitors enjoyed a lively presentation on African dance and drum history.
[Not a valid template]
Veronica Guity, producer and host of BronxNet, was Mistress of Ceremony, and Elizabeth Figueroa, Associate Vice President of Community Relations, provided welcoming remarks. Jaime Lee Lewis, educator and inspirational speaker, entertained and inspired the audience with a special spoken word poetry performance accompanied by African drums. We also had a special live presentation by Harambee Dance Company that incorporated the traditional and contemporary to create a new style of African Dance, as well as an art exhibition by DePrator, NYBG volunteer.
This community program is supported by the NYC Council's A Greener NYC Initiative and Council members Fernando Cabrera, Andrew Cohen, Ruben Diaz, Sr. and Ritchie Torres.