Posted in From the Field, Science on November 30 2011, by Wayne Law
Dr. Wayne Law is a postdoctoral research associate with The New York Botanical Garden, while Dr. Michael J. Balick serves as Vice President for Botanical Science, as well as Director and Philecology Curator with the Institute of Economic Botany. Together, their studies on the ecosystems of Micronesia have spanned over ten years.
---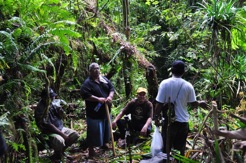 Approximately two thousand miles southwest of Hawaii are the thousands of small islands that make up the area known as Micronesia. Identified as one of the world's 25 biodiversity hotspots, the region boasts one of the highest rates of endemism, or plants found nowhere else in the world. The central group of these islands is known as the Caroline Islands, and the high islands (volcanic in origin) of Pohnpei and Kosrae are the easternmost of this group.
Over ten years ago, we started working in Pohnpei where we saw a similar pattern on these islands to what is happening throughout the world: modernization is leading to the loss of traditional knowledge as it is no longer being passed on to the younger generations.