Posted in Bill Buck, From the Field, Science on July 20 2011, by William R. Buck
Ed. note: The blogging bryologist, Mary Flagler Cary Curator of Botany, Bill Buck, is back! This time, Buck is reporting from Tasmania where he is researching mosses for a week before flying to Melbourne for the International Botanical Congress.
July 15, 2011; Hobart, Tasmania, Australia; final entry
Once again we awoke to a frost, this one so heavy that it almost looked as if it had snowed. We assumed that the frost would not be in the forest, and we were right. Our first scheduled stop was not too far away, along a trail leading to a view of St. Columba Falls. The falls are named for an Irish Catholic saint who copied the Psalms around 500 A.D., which started a war, and who was then exiled to Scotland. The falls were named by an Irish woman who discovered them and who had herself been exiled to Tasmania.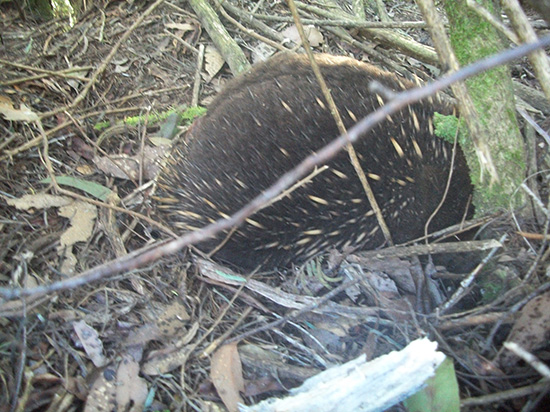 On the way to the site we finally saw an echidna, a porcupine-like marsupial. We slammed on the brakes, only to have the only other car we saw all morning blow its horn at us. Nevertheless, we scrambled out of the car to get a better look at this strange little animal. Like an ostrich, it had buried its head in the leaf litter, presumably thinking that if it couldn't see us then we couldn't see him. It was great to see this odd Australian animal. The only animal we didn't get to see that we really wanted to was a wombat.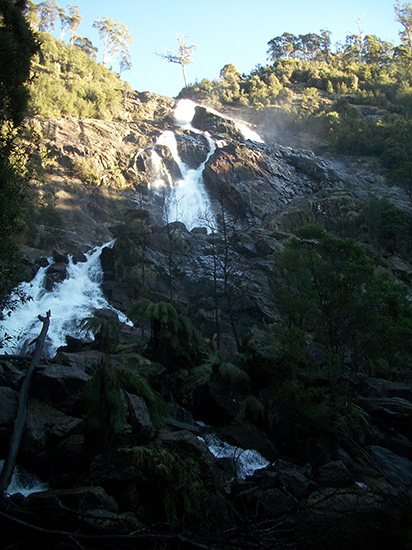 But duty called, and leaving our new friend behind, we headed up the road to the falls. Because St. Columba Falls is a popular tourist destination (just not first thing in the morning on a winter weekday), we were cautioned not to leave scars from our collecting along the trail. It's just a short walk to the falls, which is one of the highest in Australia. Although I only found a single moss that I hadn't seen previously on the trip, I found that many of the mosses I had seen sterile at other sites were fertile here. I collected these judiciously so as to have them as reference material in the herbarium.
Bill and co. go sampling, but this time for cheese! More below.