Elizabeth Britton: Real-Life Inspiration for a Fictional Heroine
Posted in Books: Past and Present on November 11, 2013 by Sarah Dutton
Sarah Dutton works in the William and Lynda Steere Herbarium, where, among other things, she is working on a project to digitize the Steere Herbarium's collection of bryophytes, the plant group that Elizabeth Knight Britton studied.
---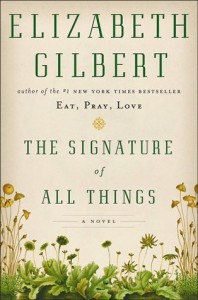 Alma Whitaker, the heroine of Elizabeth Gilbert's new novel The Signature of All Things, is a 19th century woman who's ahead of her time. Her wanderings in the forests around her father's Philadelphia estate lead to a fascination with the mosses she discovers there, and by becoming one of the world's leading moss experts, she breaks free of the restrictive roles that confined most women of the period.
It's not as fanciful as it may sound. Gilbert, the author of the bestselling memoir Eat, Pray, Love, has said in interviews that one of her inspirations for Alma was Elizabeth Gertrude Knight Britton (1857-1934), who was a teacher, curator, and leading American expert on bryophytes, the important plant group that includes mosses.
She was also instrumental in the founding of The New York Botanical Garden. After she and her husband, Nathaniel Lord Britton, visited England's Royal Botanic Gardens at Kew in 1888, the couple proposed that a similar institution be created in New York. She continued to be heavily involved, raising funds for the Botanical Garden and planning gardens and buildings with her husband, who was the Garden's first Director in Chief.

Elizabeth Britton worked at a time when few women had the opportunity to become leading scientists in their fields. When she was nominated to become a charter member of the Botanical Society of America (BSA), she was the only woman in the group. Though she seems to have been accepted as a scientist by her predominantly male colleagues, she and other female scientists were still apparently excluded from the social aspects of their work. Britton never felt comfortable enough to attend any of the BSA's "professional banquets," warning her friend and fellow bryologist Annie Morrill Smith of the group's "unwritten prohibition of female attendance at their dinners."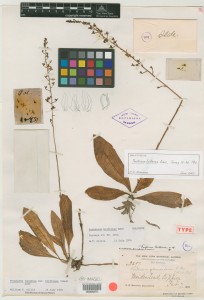 Even by today's standards, Britton had an impressive career. She published 346 scientific papers and contributed to the literature on wildflower preservation, flowering plants, and ferns. Her greatest contribution by volume, however, was in the study of bryophytes, which are not only ecologically important but also a crucial link in the evolution of plants. Britton was also a prolific plant collector who greatly expanded the Garden's collections both through her own field work and by acquiring collections from other herbaria.
Britton's legacy lives on through the many botanists she taught, collaborated with, and advised over her career. Much of her correspondence with colleagues survives to this day in the Garden's archives. For example, there are Annie Morrill Smith's letters to Mrs. Britton, in which she refers to Britton as "Sister Bryophyte."
Gilbert drew on those archives while researching her book, visiting the Garden's LuEsther T. Mertz Library to consult the Britton material. It seems fitting that Elizabeth Britton, who dedicated her life to both studying and teaching plant science, should serve as an inspiration for a novel with the potential to introduce a whole new audience to this fascinating and important subject.