Posted in Books: Past and Present on January 7, 2019 by Brian Boom
Brian M. Boom, Ph.D., is Vice President for Conservation Strategy at The New York Botanical Garden.
---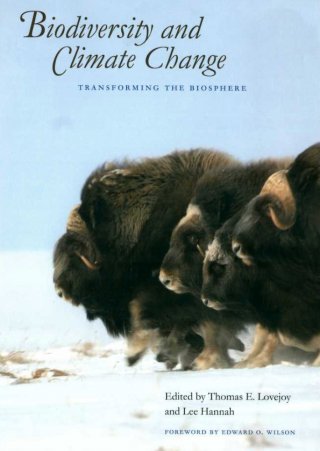 The convergence of two global environmental challenges—the growing number of endangered plant and animal species and the increasing impact of climate change—is the subject of an essential book that is being published on January 8, Biodiversity and Climate Change: Transforming the Biosphere. Edited by NYBG Trustee & Gold Medal Winner Thomas E. Lovejoy and Lee Hannah, it is a timely, seminal compilation of 28 articles written by renowned experts on diverse aspects of the complex interactions between these urgent problems. The publication "serves as a comprehensive account of this greatest of threats to humanity's future," writes eminent biologist Edward O. Wilson, a Distinguished Counsellor to the NYBG Board, in the book's foreword. "It will serve both as a textbook and a call to action."
"A call to action" on climate change was a central theme of my recent post on Science Talk, but there's much more to say about this subject. Among the many recommendations for action in Biodiversity and Climate Change are ones that botanical gardens are uniquely positioned to lead, in what could be termed a botanical approach to mitigating global warming. The approach involves using the natural power of plants to capture a major greenhouse gas, carbon dioxide, from the atmosphere through photosynthesis.