Bearing Gifts from Afar: Two Overlooked Christmas Plants
Posted in Interesting Plant Stories on December 23, 2013 by Amy Weiss
Amy Weiss is a curatorial assistant in The New York Botanical Garden's William and Lynda Steere Herbarium, where she catalogues and preserves plant specimens from around the world.
---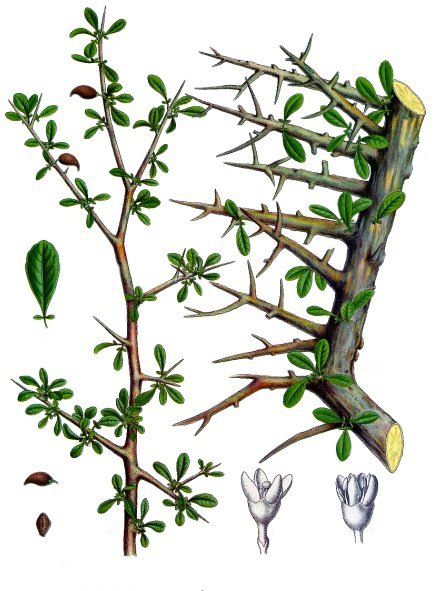 Christmas is associated with so many different plants that it's hard to imagine the holiday without them. There's mistletoe (traditionally Viscum album), holly (Ilex species, usually I. aquifolium), poinsettia (Euphorbia pulcherrima) and, of course, the Christmas tree (species of Abies, Picea, or Pinus). But most people probably don't realize that one of the central moments in the story of Christmas features plant products. They're frankincense and myrrh, which along with gold were brought as gifts by the three kings (or wise men, or magi).
In our collection in the William and Lynda Steere Herbarium, we have samples of both frankincense and myrrh, which were used throughout history as perfume, incense, and medicine and were considered precious gifts. Both are gum resins collected from small trees in the family Burseraceae, also known as the torchwood family because the wood and resin burn so well. The periderm (outer bark) of the trees is peeled back or cut, and the resin flows to the wounded surface, where it dries and is scraped off.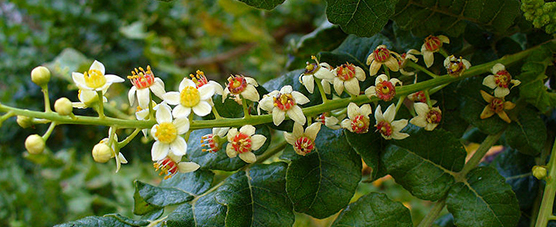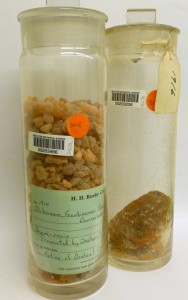 Collection 1914 is frankincense (also called olibanum) that was produced from a tree of Boswellia sacra, a species native to the southern Arabian Peninsula and adjacent parts of Africa, including Somalia and Ethiopia. Collection 1916 is myrrh collected from Commiphora myrrha, a species with a similar distribution to B. sacra.
Although more common in ancient times, frankincense and myrrh are still used today in cosmetics and perfume, and the incense burned during many religious services often includes frankincense.
Now if only gold grew on trees…
For more on frankincense and myrrh, visit the Warnell School of Forestry's Trees & Cultures series.
---