Posted in Interesting Plant Stories on September 4, 2018 by Science Talk
Ashley Keesling is a graduate student at The Ohio State University who recently conducted a research visit to The New York Botanical Garden.
---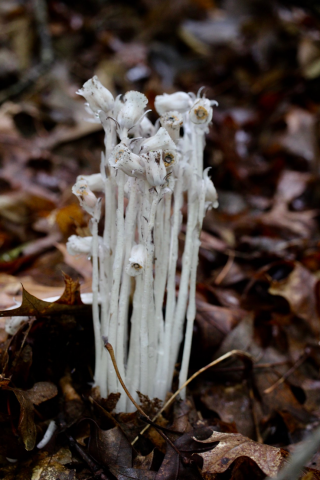 Intriguing and ethereal, Indian pipes (Monotropa uniflora) are often mistaken for fungi because of their pale, otherworldly appearance. Also known as ghost plants, they typically occur in well-established forests and are often thought of as indicators of healthy ecosystems—not the kind of plant you might think would grow in a dense urban area. However, pockets of preserved forests in New York City, such as the old-growth Thain Family Forest at The New York Botanical Garden, can allow species to flourish in unexpected places.
I came to the heart of the Bronx recently to hunt for Indian pipes in the Thain Forest as part of the research I am conducting for my master's thesis at The Ohio State University.
These fascinating parasitic plants have been the subject of much interest over the years, including research by an early 20th Century NYBG scientist. Indian pipes are unusual in that they do not photosynthesize. Instead, they are mycoheterotrophic, meaning they obtain nutrients by parasitizing a type of fungi that associate with plant roots. These mycorrhizal fungi help the plants take up water and nutrients that might otherwise be inaccessible to the plants. In exchange, the plants provide the fungi with sugars created from the process of photosynthesis. Indian pipes take advantage of the relationship between another plant and its associated fungus and "steal" sugars from the fungus. This three-part symbiosis allows Indian pipes to ultimately get their nutrients from a photosynthetic plant through the means of a mycorrhizal fungi.