More Than Peanuts: George Washington Carver's Fungi Fascination
Posted in Nuggets from the Archives on February 11, 2014 by Barbara Thiers
Barbara M. Thiers, Ph.D., is the Patricia K. Holmgren Director of the William and Lynda Steere Herbarium and Vice President for Science Administration at The New York Botanical Garden. In honor of Black History Month, she reveals a little-known aspect of botanist-inventor George Washington Carver's work and his connection with the Botanical Garden.
---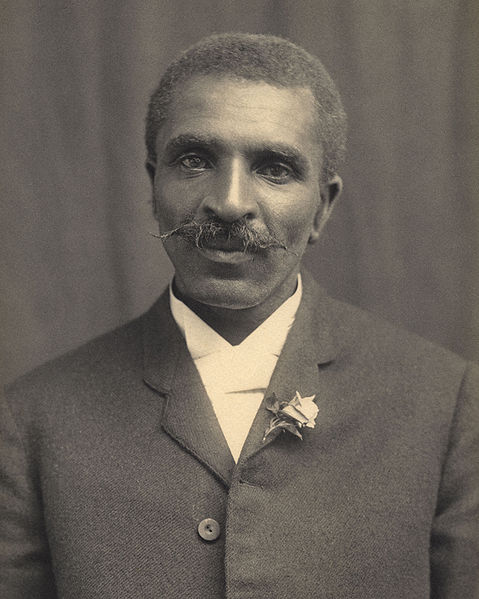 George Washington Carver may be best remembered for his domestication and promotion of the peanut, but the William and Lynda Steere Herbarium contains evidence of another of his contributions—documenting fungal diseases of plants, which, among other things, is an important cause of crop loss on farms.
Carver was born to slave parents on a farm near Diamond Grove, Missouri, around 1864. Although his boyhood was full of struggle against poverty, racism, and illness, his powerful intellect and insatiable curiosity helped him to persevere with his studies. He entered Simpson College in Iowa and then transferred to Iowa State University, becoming the first African-American student to be enrolled there.
After graduation, Carver was appointed assistant botanist at the Iowa State University Experiment Station. His research program in crop diseases brought him to the attention of Booker T. Washington, head of the Tuskegee Institute in Alabama. In 1896, Washington became head of the agricultural and dairy department at Tuskegee, where he remained for the rest of his long career. He died in 1943.

Carver, who became one of the best known American scientists of his day, developed hundreds of products from peanuts, sweet potatoes, and mineral clays; promoted home-canning and the addition of natural fertilizers to improve soil fertility; and developed new varieties of cotton and amaryllis. But often overlooked in accounts of Carver's accomplishments is his deep and abiding interest in mycology, the study of fungi. During his years at Iowa State, Carver developed a talent for collecting fungal specimens, and almost immediately after arriving at Tuskegee, he began to collaborate with Franklin Sumner Earle, who was then the chair of biology and horticulture at the Alabama Polytechnic Institute at Auburn. Together, the two worked to compile a preliminary list of the fungi of Alabama.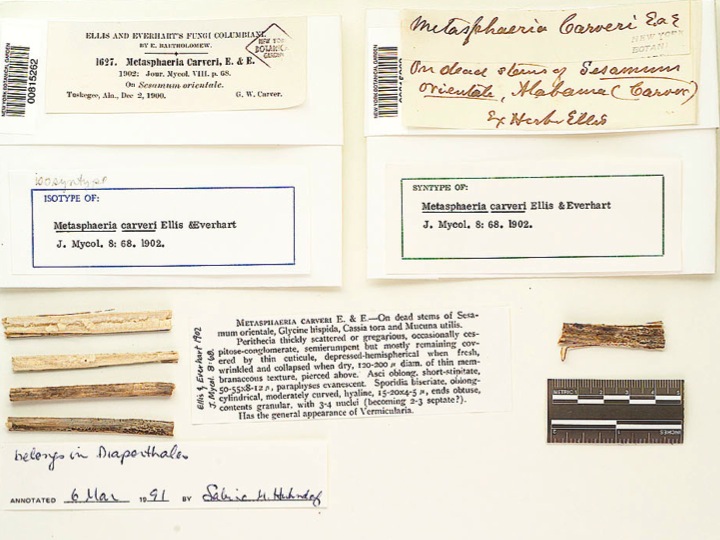 In 1901, Earle left Auburn to become the first mycologist at The New York Botanical Garden. It may have been Earle who brought Carver's ability as a fungal collector to the attention of Job Bicknell Ellis, a prominent, independent mycologist who built the first major herbarium of fungi in the United States and described more than 4,000 new species. Although Ellis was nearing the end of his career when he and Carver began their collaboration, Carver sent him many valuable specimens for identification. In 1902, Ellis published an article with Benjamin M. Everhart titled "New Alabama Fungi," which included 60 species received from Carver. The article listed two new species named for the Tuskegee scientist.
The fungus herbarium at the Botanical Garden has at least 70 specimens collected by Carver, which came to us either from Earle or as part of the Ellis Herbarium, which was transferred to the Garden near the end of his life. The Carver specimens that have been electronically cataloged so far can be viewed here in the C. V. Starr Virtual Herbarium.
---
G.W. Carver portrait courtesy of Wikimedia Commons