Posted in Garden News on November 20, 2019 by Barbara Thiers
Barbara M. Thiers, Ph.D., is the Vice President and Patricia K. Holmgren Director of the William and Lynda Steere Herbarium, and Curator of Bryophytes at The New York Botanical Garden.
---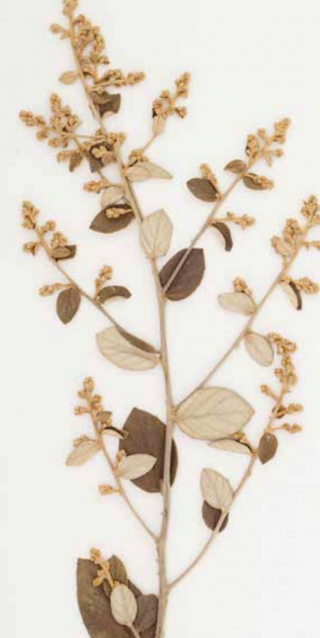 Herbarium specimens are one of the very few tangible sources of information about how plants and fungi lived before industrialization, and during each successive period of technological advance since then. Through creative adaptation of technologies developed to address other questions, researchers today can glean information from herbarium specimens about an organism's physiology, its reproduction, interaction with pollinators, predators and parasites, and the atmosphere around it, for example, the presence of pollutants in the soil and the chemical composition of the air.
Plants have small openings on the undersides of their leaves called stomates that allow Carbon Dioxide (CO2) to enter the leaf for the process of photosynthesis, and allow Oxygen (O2), a byproduct of photosynthesis, to enter to air. A variety of studies have demonstrated that leaves produce fewer of these stomates when CO2 concentrations in the air rise. Examination of stomates on herbarium specimens confirm other evidence that CO2 levels are rising, and help to correlate this rise with other types of climatic and human-mediated events. Assays of plant tissue from herbarium specimens can also help find previously unidentified sources of pollution. Herbarium specimens have been used to track historical levels of radiation and heavy metals to serve as a baseline for pre-pollution conditions, and to assess the reaction of a species to the presence of these compounds. These techniques were used to study long-term effects of known pollutions events, such as the Chernobyl nuclear disaster, or can be used to discover previously unknown contamination events.