Exploring the Mountains of Eastern Cuba, Part 2
Posted in From the Field on May 30, 2014 by Fabian Michelangeli
Fabian A. Michelangeli, Ph.D., is an Associate Curator of the Institute of Systematic Botany at The New York Botanical Garden. His research focuses in part on the evolution, identification, and classification of neotropical plants.
---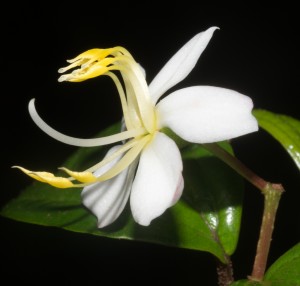 In my last post I recounted how my colleagues and I explored eastern Cuba, collecting different members of the family Melastomataceae. Only a dozen species in this group, which includes plants known as meadow beauties, princess flowers and Johnny berries, are found in the United States, but it is very diverse in the tropics. In Cuba, there are more than 200 species of Melastomataceae, and more than 150 of those are endemic, found only on that island.
Here are some representatives from the Sierra Maestra Mountains that we encountered on our expedition. Most of these species are adapted to the cloud forest conditions of the mountains.


This slideshow requires JavaScript.