Rediscovering an "Extinct" Carrot
Posted in Interesting Plant Stories on July 30, 2014 by Gregory Plunkett
Gregory M. Plunkett, Ph.D., is Director and Curator of the Cullman Program for Molecular Systematics at The New York Botanical Garden. One of his major research interests is the carrot family, the Umbelliferae.
---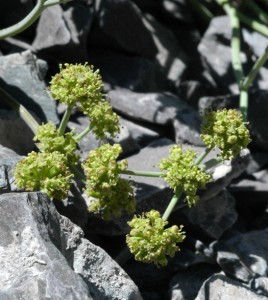 Carrots and their wild relatives, Queen Anne's Lace, are a familiar part of our life, whether at the green-grocer or along summer-time roadsides. But the carrot family (Umbelliferae) is a huge group of nearly 4,000 species, including many familiar sources of food, spices, and medicines, such as parsnips, celery, parsley, fennel, dill, caraway, cilantro, coriander, and anise. Most are found in northern temperate areas of Eurasia and North America, but there is a smaller subgroup of the carrot family centered in the Andean region of South America, extending from the alpine páramos of Colombia and Venezuela to the cold, windswept grasslands of Tierra del Fuego in southern Chile and Argentina.

In our search to understand the origin of these Southern Hemisphere "carrots," New York Botanical Garden post-doctoral researcher Antoine Nicolas and I traveled a few years ago throughout South America, from southern Chile to northern Colombia. Our adventures took us to remote areas throughout the continent, but none was more exciting than our time in Salta Province, located in Argentina's far northwest. This is a land of extremes—bitter cold and searing heat; moist forests and arid deserts; pleasant lowlands and soaring, desolate heights surpassing 20,000 feet in the Andes. Sitting at the edge of these extremes is Salta's capital city, known by Argentines as "Salta la Linda"—the beautiful. And beautiful it is, with its Spanish colonial architecture and plazas. It remains a stronghold of gaucho culture—the cowboys of Argentina—and we were lucky enough to catch the gauchos parading through the city's main plaza while we were there.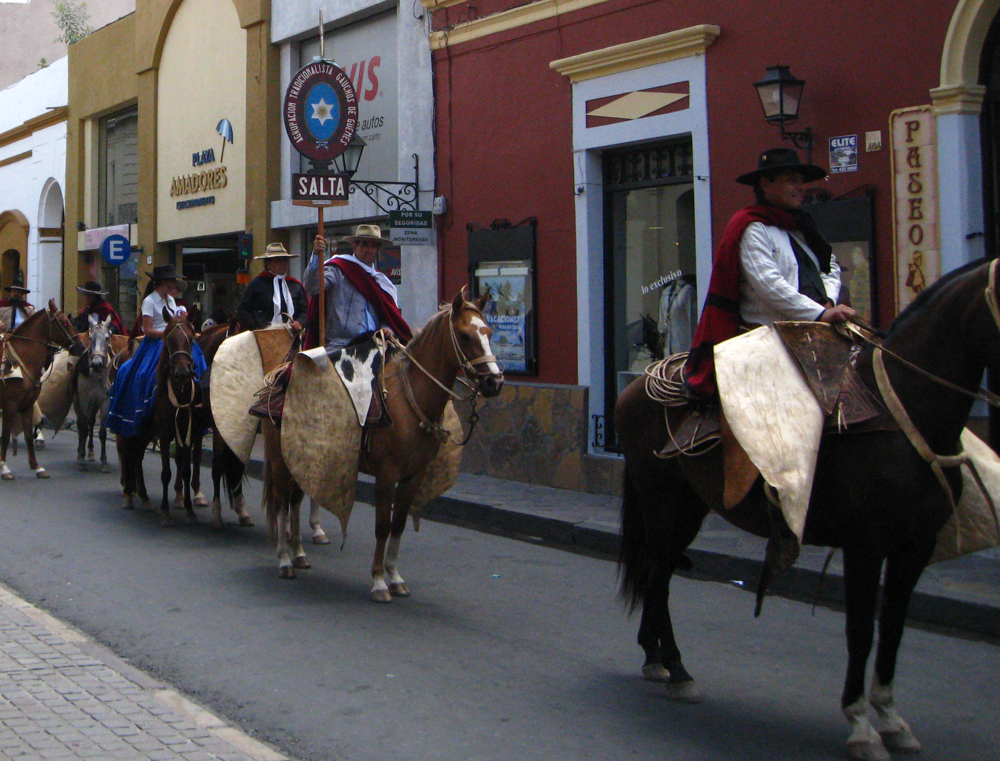 Antoine and I traveled to Salta la Linda with Argentine student Anabela Plos (from the Museo de la Plata, near Buenos Aires) to meet the province's most celebrated botanist, Prof. Lazaro Novara, from the Universidad Nacional de Salta. One of the rarest of the South American carrots was named after Prof. Novara, so we were keen to speak with him and hoped he could help us find this rare plant in the field.
The plant is known only by its scientific name, Asteriscium novarae. It was first collected in 1994 by two francophone botanists (André Charpin and Jean-Jacques Lazare) as they traveled along Ruta (or route) 33, a narrow country road that passes through the pre-puna, a rocky ecosystem of cacti and scrubby shrubs at the foot of the Andes. They later sent a dried herbarium specimen of this plant to Dr. Lincoln Constance, a retired Berkeley professor, who recognized it instantly as a new species, but the publication of the name took place only after Dr. Constance's death in 2001.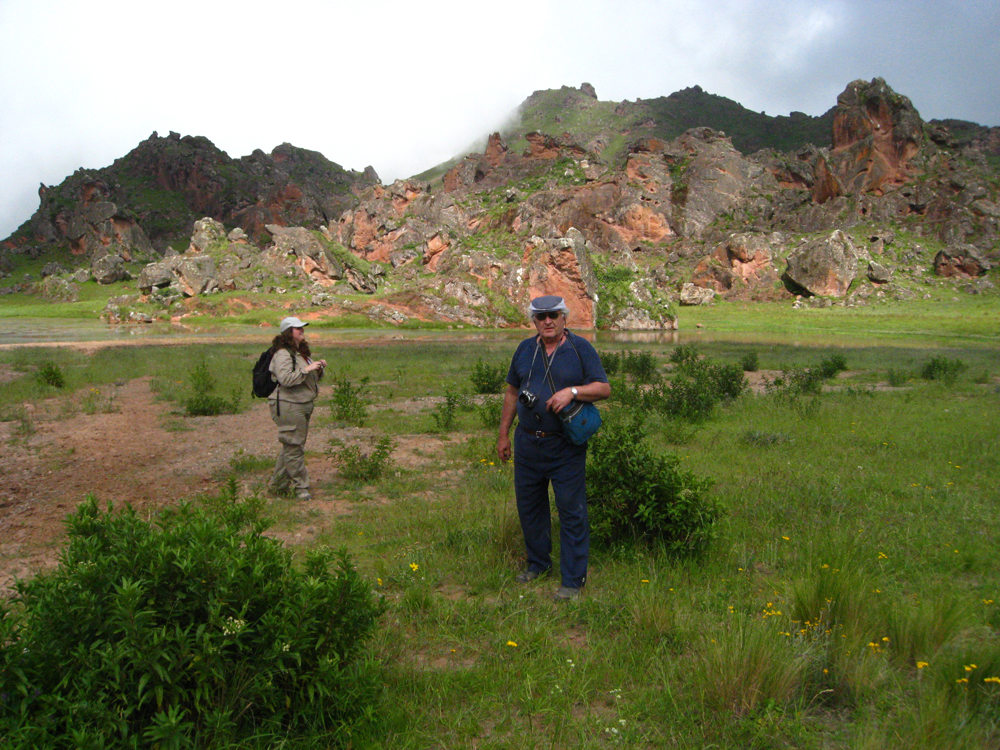 In the meantime, Dr. Charpin attempted to find the plant again in 1999, and Professor Novara made the same attempt two more times, all with no success. It seems that a major effort to improve transportation in the region had transformed Ruta 33 from a little country road into a major four-lane divided highway. When we met Novara on our trip to Salta, he relayed to us the bad news: "Asteriscium novarae is extinct." We were crushed, but we persuaded him that two "experts" of the Umbelliferae like ourselves might be able to locate what he and others had missed. The next morning, we all ventured out from Salta la Linda to the field site, a grueling drive of some six hours through winding mountain passes with terrifying curves and then over desolate desert flats. We finally arrived at the site of the original collection and spent hours scouring the rocky hills in search of the elusive plant. As the sun set, we lost hope. The engineers had destroyed the habitat and the plant was nowhere to be found. We returned empty-handed to Salta, retracing the terrifying trek in the dark.
But Antoine and I are not "glass half empty" types. We had one final hope. During our time in Professor Novara's herbarium, Antoine had located a fragmentary specimen that had been buried in a folder of unidentified specimens. Most botanists will testify that these "indet. folders," found in every herbarium, are treasure troves of botanical mysteries. The fragment had enough parts to be identified as an Asteriscium, but not to determine which species. Antoine suggested it could be Asteriscium novarae from a second site.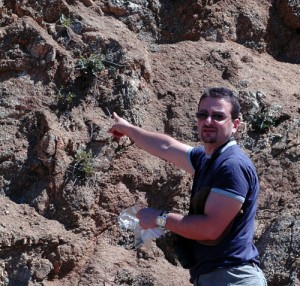 The next day, we traveled to this site, along Ruta 51, about 40 miles northeast of Ruta 33. We spent the day trying to locate this mystery Asteriscium. We found other, closely related carrots, but nothing in the genus Asteriscium. After this second failure, my optimism was waning, but Antoine convinced our team to try again one more day. We returned to Ruta 51 but began to explore new sites along the rocky hills further to the north. After hours of searching, Antoine shouted in excitement at a possible sighting. The steep hillside was a desolate field of loose gray rocks, almost totally devoid of plants and nearly impossible to climb, especially with our plant-collecting gear. But fueled by an adrenalin rush, we reached the plants, and for the first time in nearly 20 years, Asteriscium novarae had been found. That day, one plant was removed from the list of extinct species.
We are now using DNA taken from that plant to unlock the secrets of its evolutionary history. In the meantime, our story has many lessons. This plant was discovered only in 1994, when it was already on the brink of extinction. How many other plants will pass from this earth without ever being discovered? The Umbelliferae include many food and medicinal plants, but will the next magic bullet for hunger or disease be tragically missed because we were too late to discover it? And finally, our experience highlights the amazing value of herbaria, ranging from the 7.3 million collections in the Garden's William and Lynda Steere Herbarium to the 30,000 specimens of Prof. Novara's collection in far-off Salta. There are still so many treasures to be discovered and so many mysteries to be solved.