Four "Flavors" of New Plant Species, Part Two
Posted in New Plant Discoveries on January 30, 2015 by Benjamin Torke
Benjamin M. Torke, Ph.D., is an Assistant Curator at the Garden's Institute of Systematic Botany. His specialty is legumes, a large plant family that includes not only beans and peanuts but also hundreds of rain forest tree species.
---
As I noted last week, most new species display at least one of the four characteristics, or "flavors." My research on the tropical tree genus Swartzia has provided examples of each. In addition to rare species—the subject of the first post in this series—some species are restricted.
One subgroup of Swartzia, section Acutifoliae, is very diverse in the Atlantic coastal area of Eastern Brazil. While visiting the herbarium of the National Botanical Garden of Rio de Janeiro in 2007, I happened upon a specimen of this group from an area of coastal sand dunes in the Brazilian state of Bahia. With its thick leaflets rolled under at the margins, silky sepals, and bushy growth form, the specimen was unlike any of the previously described species. In 2009, I located a similar specimen in the collection at the Conservatory and Botanical Garden in Geneva, Switzerland, that also came from the same area of sand dunes.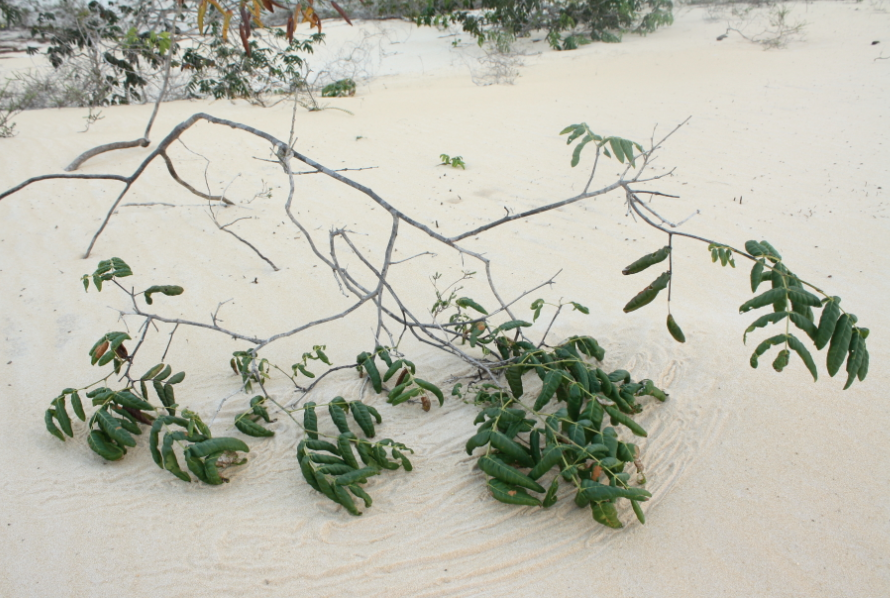 Later that same year, my Brazilian collaborator, Dr. Vidal Mansano, led an expedition to the area, which had received very little previous attention from botanists, to try to find the plant and collect new specimens. As soon as he stepped out of the vehicle, he found it in great abundance. As it turned out, it was one of the most common species in a confined area of interconnected sand dunes.
What we did not find out until later is that what appeared to be one new species was actually two, both of them restricted to this same area of dunes covering less than seven square miles. While botanists have been studying coastal dunes in eastern Brazil for more than two centuries, this particular patch had been largely overlooked. In a 2012 publication, we formally described Swartzia arenophila, meaning "sand loving Swartzia," along with its neighbor Swartzia revoluta.
Species with highly restricted geographical ranges such as these are especially prone to extinction. In this case, conversion of the dune habitat for hotel developments and degradation by off-road vehicle use are the two biggest threats.