Posted in New Plant Discoveries on May 12, 2017 by Daniel Atha
Daniel Atha is the Director of Conservation Outreach for NYBG's Center for Conservation Strategy at The New York Botanical Garden.
---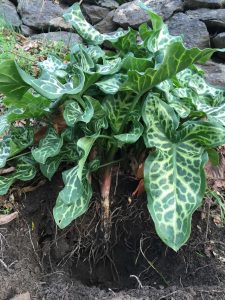 Italian arum (Arum italicum) is a European species popular with gardeners because it is shade-tolerant, deer-resistant, and sports lush foliage through the winter months when little else is green. Now, however, it appears to have escaped from cultivation and established itself as an invasive plant in several natural areas in New York City, including The New York Botanical Garden—the latest in a series of invasive plant species that are threatening our native species.
A low, herbaceous plant related to our native jack-in-the-pulpit (Arisaema triphyllum) and skunk cabbage (Symplocarpus foetidus), Italian arum forms dense patches and spreads by underground tubers and by seeds encased in bright red fruits attractive to birds. The plants produce several compounds toxic to mammals, including saponins, calcium oxalate, alkaloids, and others. It has become a dangerous pest in the Pacific Northwest and is classified as a Class C noxious weed in Washington State. On Lopez Island, Washington, conservationists have been trying to eliminate a two-acre infestation with little success. The species has shown remarkable resistance to herbicide treatment, and repeated cutting has had no effect.