Blast from the Past: Plant Specimens From One of America's Cold War Nuclear Test Sites
Posted in Interesting Plant Stories on August 25, 2016 by Colette Berg
Colette Berg, an intern in the William and Lynda Steere Herbarium at The New York Botanical Garden, recently graduated from Fordham University, where she studied environmental science. In January, she will begin a Master's in Biology program at Southeast Missouri University, focusing on plant ecology.
---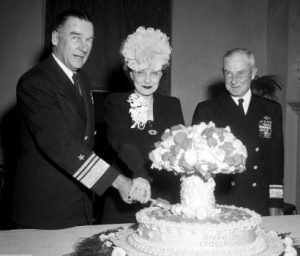 Every day as an intern at the William and Lynda Steere Herbarium, I transcribe the labels on pressed plant specimens so data about the specimens can be made accessible online. As I type out the collector's name, date of collection, and location, I catch a glimpse of the stories behind the specimens—stories of science and politics and history.
Recently, one particular label caught my eye. In 1946, William Randolph Taylor, a University of Michigan botanist who specialized in algae, traveled to the Marshall Islands in the South Pacific with Operation Crossroads, a military mission to test atomic bombs at the remote Bikini Atoll. Taylor's 1990 obituary described him as a man who "worked in the years of brass-fitted monocular microscopes" and "entered the sea in long rubber boots while holding a glass-bottomed bucket." Before the bombs were detonated, Taylor surveyed the vegetation on the island. One can imagine him peering through his bucket in the surf as he collected some of the specimens shown here.
Botanists contributed to the war effort in the South Pacific in dozens of ways. They wrote manuals about how to survive in the unfamiliar tropics. They worked as foresters, identifying useful timber for the Army Corps of Engineers. They conducted public health research about malaria in partnership with entomologists. One of Taylor's students, William C. Steere, Sr. even led wartime expeditions to identify Latin American sources of cinchona, the tree whose bark yields quinine, which is used to treat malaria; Dr. Steere later became the Director of The New York Botanical Garden.
This slideshow requires JavaScript.
Following the war, the sparsely populated Bikini Atoll became a test site for America's nuclear weapons program after the atoll's leader, King Juda, agreed that the 167 Marshallese residents of the atoll would evacuate. The military relocated them to a series of smaller islands, where they faced famine, overcrowding, and disease. The United States conducted 23 nuclear bomb tests at the Bikini Atoll between 1946 and 1958. To this day, it is uninhabitable due to high levels of cesium-137 in the shallow, coral soil. Descendants of the original evacuees remain dependent on food shipments from the United States. They are unable to return to their forebears' traditional way of life.
In recent years, political leaders in the Marshall Islands have become champions of environmental conservation. In 2011, its Parliament banned commercial shark fishing throughout the nation's waters, thus creating the world's largest shark sanctuary, an area four times the size of California.
William Randolph Taylor published a thorough floral survey of Bikini Atoll in his 1950 book, Plants of Bikini and Other Northern Marshall Islands. This book provides a useful baseline for studying the resilience of ecosystems after nuclear explosions. In a piece of encouraging news, a 2008 study reported that 70 percent of the Bikini Atoll coral had recovered from the disturbance of nuclear testing. This resilience may be due to the fact that humans have left the area alone, fearing radiation poisoning.
And so despite the many forms of damage caused by nuclear tests in the Marshall Islands, data collected by Taylor on his 1946 trip continues to inform conservation of the region to this day.
Sources:
Braun, David M. "Marshall Islands Declares World's Largest Shark Sanctuary." National Geographic Society Blogs. N.p., 03 Oct. 2011. Web. 27 July 2016.
Hillis, Llwelya. "William Randolph Taylor, 1895-1990". British Phycological Journal  27.1 (1992) Web.
Howard, Richard A. "The role of botanists during World War II in the Pacific theatre". Botanical Review. 60:197. 1994. Web.
Niedenthal, Jack. "The Atomic History of Bikini Atoll." The Guardian. Guardian News and Media, 06 Aug. 2002. Web. 27 July 2016.
Richards, Zoe T. "Bikini Atoll coral biodiversity resilience five decades after nuclear testing." Marine Pollution Bulletin. 56.3. March 2008.
Taylor, William Randolph. Preface. Plants of Bikini and Other Northern Marshall Islands. Vol. XVIII. Ann Arbor: U of Michigan, 1950. vii-ix. Print.