Saving the Plants of the World: Celebrating International Day for Biological Diversity
Posted in Applied Science on May 22, 2017 by Lawrence Kelly
Lawrence M. Kelly, Ph.D., is Associate Vice President for Science Administration and Director of Graduate Studies at The New York Botanical Garden.
---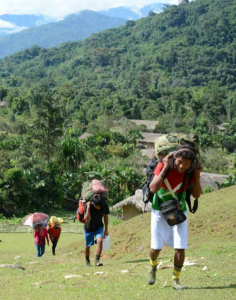 Every year on May 22, The New York Botanical Garden joins the global community in celebrating International Day for Biological Diversity. Established in 1993 by the United Nations, this day recognizes international cooperation and commitment to take global action to reduce the rate of biodiversity loss. It is also an outstanding opportunity to increase understanding and awareness of biodiversity issues, especially, for us here at NYBG, the issues facing the plant kingdom.
It is no exaggeration to say that without plants, life on Earth would be impossible. Plants provide food, clothing, shelter, medicine, and the raw materials to meet most human needs. Plants make the air we breathe, they create the rain that waters the world, and they are essential for healthy ecosystems. The beauty of plants nurtures our souls and inspires our imaginations. Yet the plant diversity that sustains us is imperiled today as never before in human history. One-third of Earth's nearly 400,000 plant species are at risk of extinction.

A new NYBG publication, Saving the Plants of the World, provides an engaging, non-technical look at how the Botanical Garden is responding to the biodiversity crisis. By conducting cutting-edge research on plants and their habitats and by taking institutional action to protect them, the Garden's Plant Research and Conservation program is working to secure a healthy future for our planet and our children.
NYBG's scientific programs contribute to three elements of effective conservation. First, we discover and document plant biodiversity, at all levels, from molecules to ecosystems. We also engage and train by involving local communities in understanding and valuing their ecosystems, educating graduate students, and making our research widely available. Finally, we defend the planet by working with colleagues around the world at conservation and research institutions, non-governmental organizations, and government agencies to identify plants and habitats most at risk, in order to implement strategies to save them.
On this day set aside for biological diversity, you can learn more on NYBG's Plant Research and Conservation website about the work that the Garden's scientists and researchers do every day in their effort to save the plants of the world.