Celebrate Archives Month with Alexander P. Anderson's "Eighth Wonder of the World"
Posted in Applied Science on October 21, 2019 by Stephen Sinon
Stephen Sinon is the William B. O'Connor Curator of Special Collections, Research and Archives, in the LuEsther T. Mertz Library of The New York Botanical Garden.
---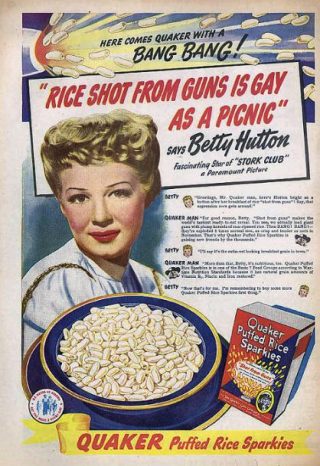 Dr. Alexander P. Anderson (1862–1943) was a plant physiologist and the inventor of the process for making puffed cereals. His interest in starch grains began as an undergraduate at the University of Minnesota studying agriculture. Encouraged by his instructors, Anderson earned a master's degree in plant physiology in 1895. He then traveled to Munich, Germany to study with leading botanists, earning his doctorate degree in plant physiology in 1897. After completing his studies, Anderson accepted a teaching and research position at Clemson Agricultural College (Clemson University today) where he taught from 1897 to 1901.
Anderson came to work at the NYBG Laboratories in 1901 through the encouragement of Dr. Daniel Trembly MacDougal, who was at the time Director of Laboratories at NYBG. When offered a position as Curator of the Herbarium of Columbia University with the use of the Laboratories at The New York Botanical Garden, he resigned his teaching position in South Carolina and moved to New York. His work on starch granules continued at the laboratories at NYBG.

He believed that a tiny speck of free water would be found in the nucleus of a starch crystal. He began experiments in December 1901. He heated starch granules that were sealed in a glass tube until they showed signs of browning. He theorized the water inside each grain would turn to steam. He suspected a reaction within the starch would occur if he set the steam free. He smashed the glass which resulted in an explosion that produced granules of puffed starch. A few days later, rice was treated in the same way. Wheat, barley, buckwheat, millet, and many other seeds were tried during that winter.
Out of his test tube experiments evolved the process for making puffed cereals using a series of tubes which Anderson called guns. These guns were loaded with rice or wheat and moved on carriages into ovens for heating and rotation. While in the ovens, high pressure and super-heated steam are injected into the guns. The cap ends are removed, and the puffed grain is "shot" out.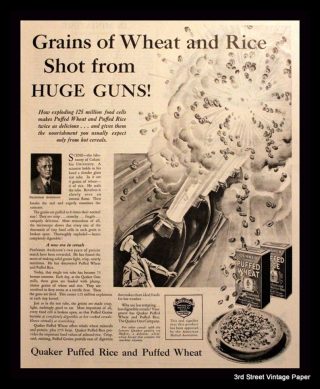 Puffed Rice was introduced to the public in 1904, when a battery of eight bronze guns was set up at the World's Fair in St. Louis. Dr. Anderson loaded each gun with six pounds of raw rice and applied the steam heat needed. He shot large quantities of puffed rice from the guns which was bagged and sold for a nickel to fair goers. Other inventors such as Alexander Graham Bell and Thomas Edison were also demonstrating their inventions at the Fair. Posters at the Fair described Puffed Rice as "The Eighth Wonder of the World." With clever advertising Puffed Rice and Puffed Wheat quickly became very popular ready-to-eat breakfast cereals.
Dr. Anderson conducted more than 15,000 experiments perfecting these and other cereals. For over 40 years he worked at the Quaker Oats Company designing and engineering the complicated machinery needed to produce puffed cereals on a commercial scale. He received 25 United States patents and 14 foreign patents. He also conducted numerous experiments in aerodynamics, working on a wind motor based on the theories and principles of tornadoes, and experiments with puffing wood and the growth of fruits.
In 1902, Dr. Alexander, believing his invention had commercial potential, left the New York Botanical Garden. The following year he signed an agreement with Quaker Oats to begin large-scale production of puffed rice and wheat cereals. The Garden's Archives today house Dr. Anderson's original laboratory notebooks which document his experiments, research, and activities. One of these will be on view in The LuEsther T. Mertz Library during the month of October in celebration of American Archives Month. A finding guide for the collection of Dr. Anderson's records held in the Garden's Archives is available for viewing online.