Posted in New Plant Discoveries on September 16, 2014 by Roy Halling
Roy E. Halling, Ph.D., is Curator of Mycology in The New York Botanical Garden's Institute of Systematic Botany. Among his primary research interests is the bolete (or porcini) family of mushrooms, especially those found in Southeast Asia and Australia.
---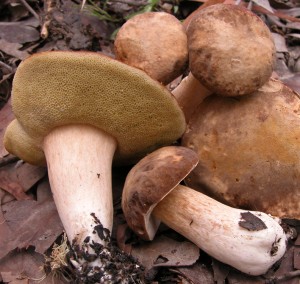 The true porcini mushroom is well-known as a prized edible mushroom. Boletus edulis, as it is known scientifically, has a common name in just about every country where it has been found. Steinpilz, cep, penny bun, king bolete, panza, prawdziwek, and pravi virganj are just a few. Often viewed as "wild crafted," it can't be cultivated and grown artificially; it is only found in nature.
Recently, we've learned more about the family lineage of this tasty fungus. By analyzing DNA gene sequences, my colleague Dr. Bryn Dentinger at the Royal Botanic Gardens, Kew identified two relatives that are species new to science. We and four other colleagues have just described these species in Mycologia (July/August 2014).