What Makes an Orchid Different from Other Flowers?
Posted in Exhibitions, The Orchid Show on March 17 2010, by Plant Talk
| | |
| --- | --- |
| | Jessica Blohm is Interpretive Specialist for Public Education. |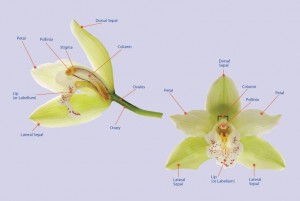 Orchids are one of the largest genera of flowering plants, with about 30,000 species worldwide. Orchids vary widely in their appearance. Many have stunningly beautiful flowers with stripes and spots, while others are almost ugly with hairs and even warty bumps. What do all these striking flowers have in common?
In describing a plant genus so vast and so diverse, it is almost safe to say that there are no rules. However, botanists generally agree that one feature above all others defines the orchid and differentiates it from virtually all other flowering plants: the fusion of the male portion of the flower (stamen) and female portion (pistil) into one structure called the column—often visible protruding from the center.
Look for these orchid parts on the more than 7,000 orchids in The Orchid Show: Cuba in Flower. (Click on the image to view it larger.)
Sepal—one of the three outer parts of an orchid flower that protects the petals
Pollinia—a solid mass of pollen found in the anther
Column—the fused sexual organ of an orchid flower
Petal—the three petals on an orchid are the true flower; one is modified into a lip
Lip (or Labellum)—a specialized petal, unique to orchids
Ovary—the part of the flower that develops into the fruit
Ovule—a small protuberance in the ovary, capable of forming a seed when fertilized
Stigma—the sticky area of the pistil that receives the pollen