Posted in Garden News on July 23 2019, by Plant Talk
Matthew C. Pace, Ph.D., is an Assistant Curator at The New York Botanical Garden.
---
In our Steere Herbarium, a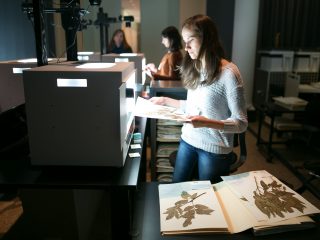 combination of capturing ultra high-resolution images of specimens and entering detailed information about each specimen in a searchable database is making this scientific collection easily available to anyone with an internet connection. Among other benefits, this online resource will help researchers overcome the acute problem of access to specimens of threatened and endangered species. Deeper understanding of the various adaptations of the species and their evolution will make it possible to design better conservation and management strategies. The public's interest in these charismatic and captivating plants also affords an opportunity to engage students and teachers in discussions about biodiversity and its preservation, plant adaptations, and mutually beneficial species relationships. Additionally, the availability of two million digitized records will enhance the education and enjoyment of citizen scientists, horticultural hobbyists, and other non-academic enthusiasts.