Tip of the Week: Removing Invasive Japanese Stilt Grass
Posted in Gardening Tips on September 20 2010, by Sonia Uyterhoeven
| | |
| --- | --- |
| | Sonia Uyterhoeven is Gardener for Public Education. Join her each weekend for home gardening demonstrations on a variety of topics in the Home Gardening Center. |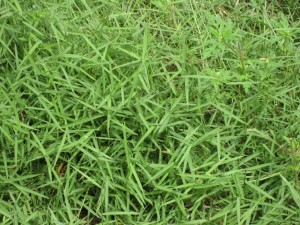 This past summer I attended a workshop given by NOFA Organic Land Care on the organic management of invasive plants in the landscape. I want to share some of the information I learned, especially as it relates to Japanese stilt grass (Microstegium vimineum), which I wrote about last week.
Since Japanese stilt grass is an annual grass, the primary goal is to prevent it from producing seeds. Let's look at how to work with its life cycle in order to get rid of it.

Hand pulling: If you have a small or manageable patch of Japanese stilt grass, hand pulling is a viable option. This annual grass is capable of producing a prodigious number of seeds that end up in the soil seed bank. Physical removal can encourage seed from previous seasons to germinate and grow in the disturbed soil, so you need to be mindful of when you pull the grass.
The best time is in the late summer when it is tall and easy to grab onto but before the grass has started to flower or has gone to seed. Fall is also a good time to hand-pull, because even if seeds in the soil germinate, they will be killed by frost before having a chance to produce seeds. If you pull in spring or early summer, you will be giving yourself twice the amount of work, because the new plants that germinate will have time to produce another crop of seeds. Remember to wear gloves to protect your hands.
Mowing: For large areas, mowing or weed-whacking are good options. These methods are best done late in the season (August through early September), before the grass flowers and forms seeds. If mowed earlier in the season, the grass will have time to regenerate and flower and form seeds. In order to control this pest, the same area should be mowed each year before new plants set seed.
Spraying: For large areas, spraying with a certified organic herbicide is also an option. The problem with most herbicides, whether organic or synthetic, is that they kill not only the targeted plant but everything in the treated area, including plants you want to keep.
The best time to spray is when the targeted plant is most vulnerable: late summer when the grass has expended a great deal of energy on growth and is just beginning to flower. The plant will not have enough reserve energy to make a comeback for the season.
Burning: For those adventurous, careful, and pyrotechnically minded souls, burning is a final option. This means investing in a propane weed torch, learning how to properly use the torch, and obtaining a permit, if necessary, to do the work. You can get trained at The Nature Conservancy and the Connecticut Agricultural Station. Remember to always have water at hand in case the fire spreads.
Remember that removal of any tough weed or invasive plant generally takes time and more often that not requires repeated applications. Next week we will look at how you take care of an area after you have removed invasive plants. After all this hard work, you don't want them to regenerate.