The Giant Pumpkins are Here!
Posted in Exhibitions on October 20 2010, by Plant Talk
Ann Rafalko is Director of Online Content.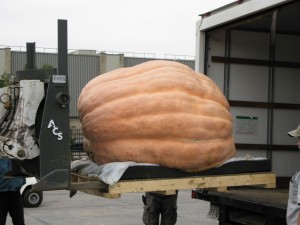 The first of three giant pumpkins that will call The New York Botanical Garden home through Halloween (as part of Halloween Hoorah) arrived today. And what an arrival it was! The 1,725 pound beauty was grown by farmer Ken Sweet in Michigan–40 miles north of Detroit on the border of the towns of Romeo and Armada–and was driven here by his two buddies Don van Houtte and Mark Mikula.  The two men set out yesterday, stopped in Pennsylvania for a rest and arrived behind the Conservatory around 11 a.m. They were greeted by a small fleet of golf carts bringing smiling Garden employees, and one very large forklift.
After a few photo ops with the employees, the giant pumpkin was lifted gently from its truck by the forklift, and carried in a caravan of golf carts to its resting spot by the reflecting pool in front of the Leon Levy Visitors Center where it will shortly be joined by two pumpkin buddies, including the new world record holder, a behemoth weighing in at 1,800 pounds!
Escorting the  giant pumpkin around the garden was a blast. As we turned up the road in front of the weekly greenmarket, I made sure to watch the shoppers' faces. Every one of them lit up into giant smiles of amazement! It truly isn't everyday that you get to see a pumpkin that weighs more than a Smart ForTwo being escorted by a small flotilla of golf carts.
So take an exclusive sneak peek at this amazing gourd, and be sure to come visit the pumpkins!  To plan your visit, buy your tickets, and learn about all things pumpkin, click here.