From the Field: Paola Pedraza-Peñalosa in the Colombian Andes
Posted in From the Field, Paola Pedraza-Peñalosa, Science on March 9 2011, by Plant Talk
Ed. Note: NYBG Scientist and Assistant Curator, Institute of Systematic Botany, Paola, Pedraza-Peñalosa recently returned from an expedition to the Colombian Andes where she was without electricity and the Internet. Upon returning to New York, she filed these briefs about her time in the field. Follow her journey on Plant Talk.
January 31, 2011; A typical day botanizing in Las Orquídeas National Park; Antioquia, Colombia
So what exactly does a botanist do in the field? In the field we look for plants that are in reproductive state, those bearing flowers or/and fruits. Reproductive structures are necessary to differentiate between closely looking species. For each species, we collect flowers, fruits, and leaves; these samples are processed and later dried for future study. The dried and mounted plant samples are called herbarium specimens and they are known to last for hundreds of years.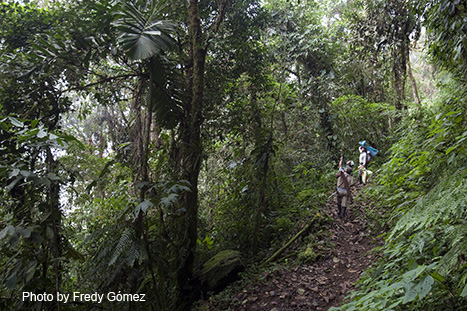 Back at the garden, the study of the herbarium specimens will allow us to accurately identify species. Once we know the scientific names of the plants we will be able to determine, for example, their pattern of distribution locally and globally (and therefore their rarity), known or potential uses, vulnerability, and conservation concern.
To reach high trees and the many epiphytes that grow upon them, we use pruners that are mounted on top of telescopic poles. During this trip the canopy reached 20 meters or more; for the tallest trees, poles extended from ground level are useless, so to be able to collect the tallest trees we were forced to climb on a nearby tree and then extend the poles. This is a difficult task, not only because of the tree climbing, but also because when extended, the poles become very heavy and you do not have much space to maneuver. Fortunately the park rangers, Javier and Arley, were pros at this.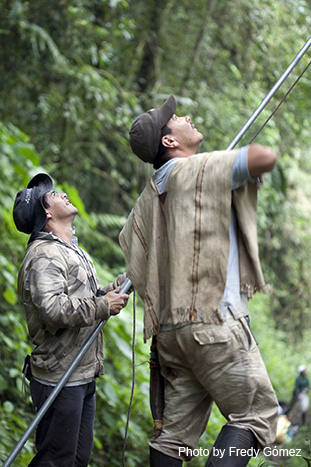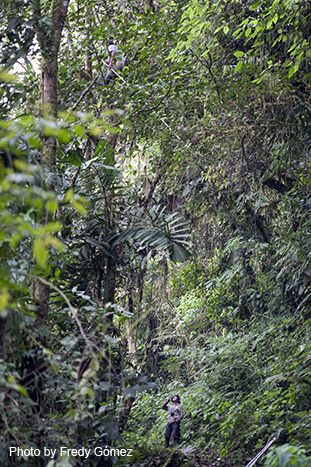 When working with an entire flora, like in Las Orquídeas project, we always find more plants than we can process. Usually, our collecting sacks are so full by midday that we have to start processing the plant samples right where they are collected, otherwise the sacks get too heavy and you end up with vegetable puree. The process involves pressing and flattening the specimens in a special way between pieces of newspaper.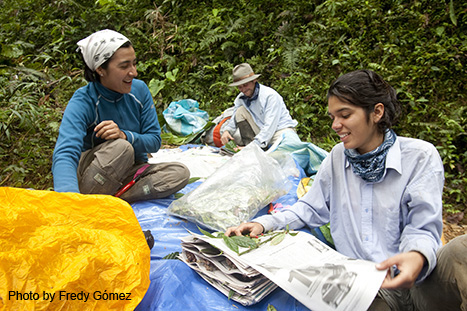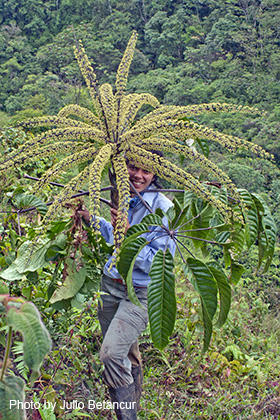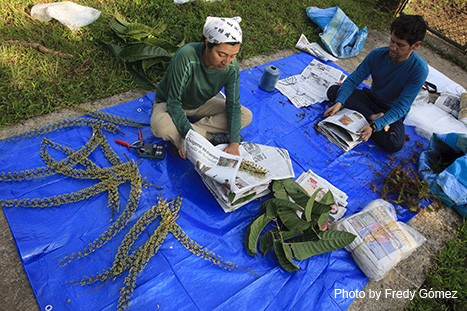 We also take note of the plant's habitat, height, and any other characteristics that will be lost upon drying such as colors, shapes, and aromas. These characteristics are key to the correct identification of the species. Back at the field station we continued pressing whatever we could not press during the hike.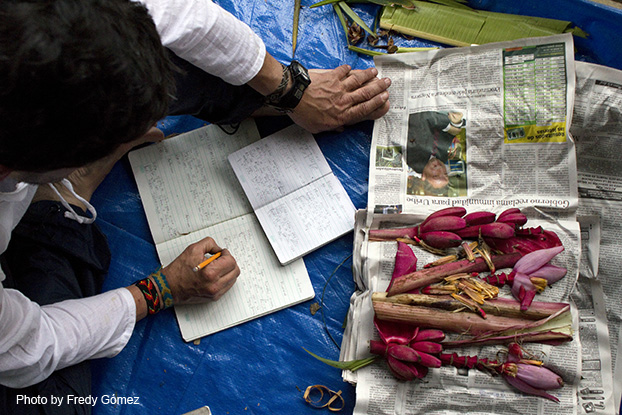 Acknowledgments: this project is funded by the National Science Foundation (NSF DEB 1020623). Photos courtesy of: Julio Betancur*, Giovanny Giraldo*, Fredy Gómez, María Fernanda González*, Paola Pedraza-Peñalosa. (Those marked with a * are affiliated with the Universidad Nacional de Colombia.)