From the Library: The Floral Flyer
Posted in Around the Garden on August 8 2011, by Mertz Library
The Floral Flyer ran on weekends and holidays at The New York Botanical Garden from May 1949 until the early 1970s, when it was taken out of service. The Flyer is a precursor to the Tram available to today's Garden visitors. Current tram operation began in the early 1990s and it is available daily.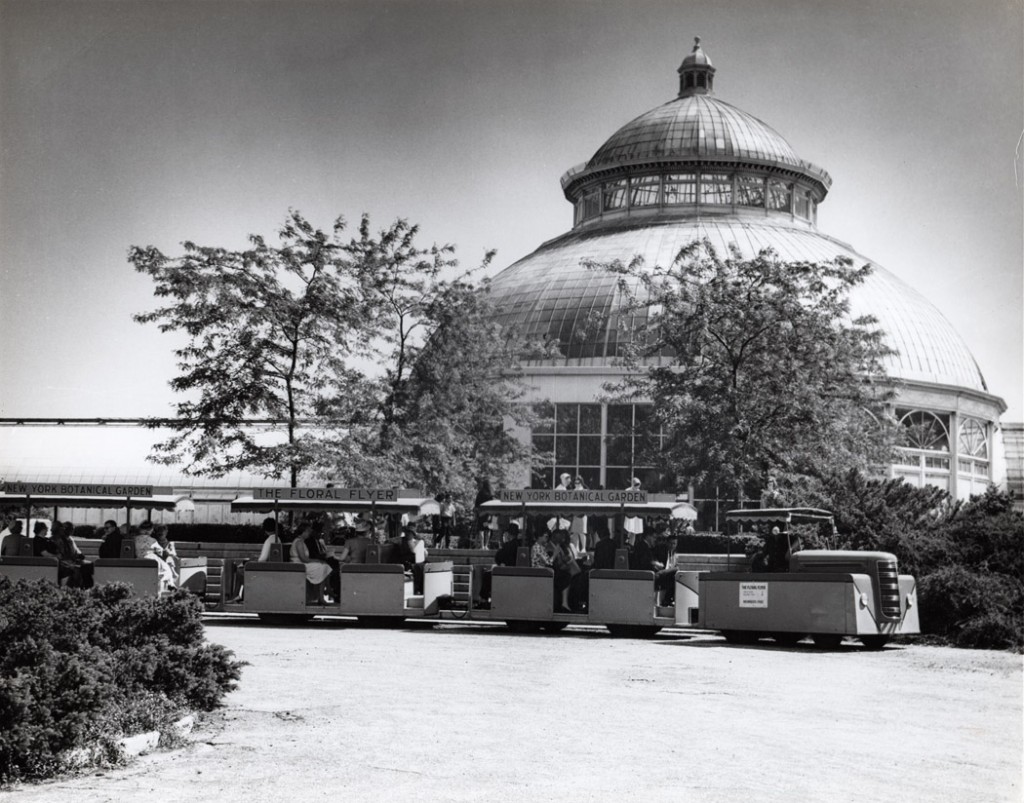 An announcement about The Floral Flyer first appears in the April 1949 issue of The Journal of The New York Botanical Garden:
"OPERATION of a three-car tractor train around the grounds of the New York Botanical Garden is scheduled to begin in May, provided the roadway now nearing completion over the new bridge across the Bronx River is ready for use by that time. The train, which is similar to those borrowed from the Zoo for tours of the grounds during Garden Week in May 1945, is the gift of Mrs. Harold Irving Pratt, who played a prominent part in the plans for the Botanical Garden's 50th Anniversary celebration at that time. It is to be named the Floral Flyer.
"Each of the three cars will hold 16 passengers. While the train's schedule and route have not yet been determined, it is expected that it will go to the Conservatory, along the road through the woods to the new bridge in the vicinity of the Rose Garden, north from the Rose Garden along the gorge of the Bronx River, skirting the Hemlock Forest, the collections of deciduous trees, and the magnolias, then turning westward over the boulder bridge and south to the Museum building."
Mrs. Pratt herself christened The Floral Flyer on May 26 using a watering can filled with daylilies "as emblematic of the New York Botanical Garden's scientific and horticultural accomplishments."
The Flyer made more than one thousand round-trips over the Memorial Day weekend, in 1949. The fare that first summer for non-members was twenty cents for a twenty-minute, gas-powered ride. The cost of a modern day tram ride is included in the price of All-Garden Pass or Membership.