Historic October Storm Hits NYBG
Posted in Around the Garden on October 31 2011, by Ann Rafalko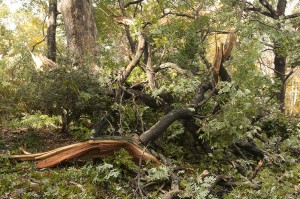 Approximately 15% of the 15,000 trees in the Garden's Thain Family Forest have sustained at least some damage.
Many of the historic trees in the Garden's beautiful magnolia collection have been damaged, even destroyed.
In the new Azalea Garden huge branches fell on new plantings and an ancient tree was lost.
The entire 250-acres of the Garden is littered with branches and tree limbs.
Our initial assessment shows that thousands of trees have been damaged and many destroyed. A complete appraisal will take weeks as much of the damage is high in the canopies of trees 100 feet tall or more.
The unexpected snowstorm on Saturday hit NYBG hard.
What happened? Saturday's snow and high winds hit a landscape still very much in leaf. The combined force of the storm with the beautiful fall foliage was just too much to bear for many of the Garden's historic trees. As limbs were torn from trunks, they fell to the ground where the crushed lower level plantings of trees, shrubs, and herbaceous plants. Our dedicated horticulture staff has been working around the clock and will continue their efforts for the foreseeable future. The restoration can only be accomplished with your support–we do not anticipate that any government agencies will be able to help.
According to Gregory Long, Chief Executive Officer of The New York Botanical Garden and William C. Steere Sr. President, we are "committed to our 120-year tradition of stewarding a uniquely beautiful and treasured landscape (that serves) as an important center for learning about and preserving the natural environment. Together we can continue to restore our native Forest and protect the extensive living collections across this landmark site."
We need your help to recover. Please give whatever you can. Any amount you are able to contribute will make a difference.