The Carving Begins!
Posted in Around the Garden on October 21 2011, by Ann Rafalko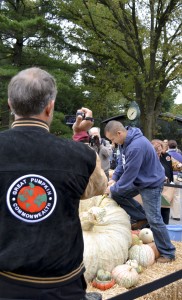 I got a nice surprise this morning when I stopped by the big pumpkins; I found Brant and Elanor Bordsen, of Marysville, Calif. standing beside their beautiful, pearly pumpkin chatting with Garden visitors and staff. I told them I was surprised and excited to see them here (I had no idea they were coming!), and they said that they decided that they wanted to be here when Ray Villafane cut into their 1,693 pounder, to remove the seeds themselves, and to watch the progress of his sculpture. I asked them if they had seen the concept drawing for his sculpture yet. They said no, so I pulled it up on my BlackBerry and showed it to them. They agreed that it was certainly spooky and would be quite the spectacle!
A few hours later, we all met-up again beside the Bordsen's pumpkin to watch as Ray pulled out a saw and started cutting into the mammoth gourd. It was an emotional moment, but I think some of that emotion was soon offset by the many seeds inside of the Bordsen's pumpkin. Each seed from the year's biggest pumpkins can be sold for several hundred–if not thousands–of dollars. Due to the intense hybridization that goes into growing these enormous gourds, it's always a mystery as to how many seeds each pumpkin is going to have inside of it.
Ray's day at the Garden today with the Bordsen's pumpkin is allowing him to get a jump-start on the sculpture he will spend the next two days working on. Stop by anytime Saturday and Sunday to catch the artist in action. And remember, if you take a picture with the pumpkins, we'd love to see them. Simply tweet them to us, @nybg.
(Oh, and p.s. – Sorry about the focus on a few of the photos.)