This Just In: New World's Heaviest Pumpkin Coming to the Garden!
Posted in Around the Garden on October 17 2011, by Ann Rafalko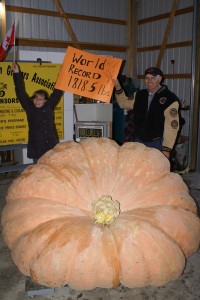 Hold the presses! You know how we told you that beginning October 21, the Garden would be home to the three biggest pumpkins in the U.S.? Well, we lied. Beginning October 21, the Garden will now be home to the four biggest pumpkins in the world! That's right, we said world.
Just this weekend a new world's biggest pumpkin was crowned in Canada. Weighing in at 1818.5 pounds and grown by Jim and Kelsey Bryson of Ormstown, Quebec, the new heaviest pumpkin in the world out-weighs last year's world-record holder (which also called the Garden home for a time) by 8 pounds! Congratulations Jim and Kelsey! We can't wait to meet you and your great pumpkin.

[Not a valid template]