Zombies in the Garden
Posted in Around the Garden on October 24 2011, by Ann Rafalko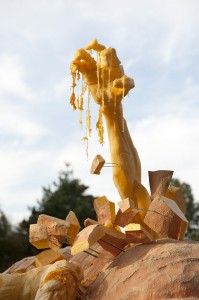 They came. They saw. They conquered! And lucky for us, everyone still has their brains in place.
Couldn't make it to the Garden this weekend to watch Ray Villafane transform two of the world's heaviest pumpkins (including the world record-holder) into a super-creepy zombie tableau? Never fear!
We caught all the action via time-lapse camera and in a slideshow. Head below the jump to see them … if you dare!
Time-lapse of Ray Villafane carving two of the world's largest pumpkins, October 22-23, 2011.
And a slideshow of images taken on Sunday, October 23 by Garden photographer Ivo M. Vermeulen.