A Bronx Red-Tail: Part 2
Posted in Members, Wildlife on November 9 2011, by Patricia Gonzalez
Back in February of this year, I related my tale of Rose, the red-tailed hawk who shares a nest on the nearby Fordham University campus with Vince, her mate. Since then, the hawks have extended their family. In May, four chicks (a record for this pair and likely any other Bronx hawks) came out to the world. I knew that it was only a matter of time before these youngsters would pay The New York Botanical Garden a visit. I hoped to be lucky enough to see these raptors close up, and I recently got my wish.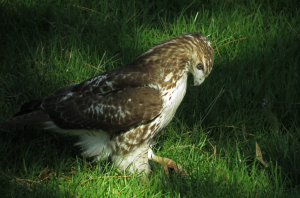 It was 9:40 a.m. on a chilly October morning and I had just passed the Garden's reflecting pool. I wanted to do some shooting of the Conservatory grounds. That's when I noticed a hawk darting overhead, landing on the lawn by the first tram stop on Garden Way.
The tram crew hadn't noticed it at first. The hawk was looking down at something. After watching Jr. (one of this hawk's siblings from 2010's brood) for so many months this past winter, I already knew what was going to happen next, so I tip-toed ahead, ducking behind one of the two nearby trees and readying my camera. I set it to shoot eight images in one burst and began firing away. It was windy and the ray of sunlight shining through the trees directly onto my new friend kept changing, making getting clear shots interesting to say the least. But I got photos of the newest member of Rose's dynasty regardless.

The hawk definitely had something small and quite dead in its talons. The carcass didn't have the body stripe or tail of a chipmunk. In fact, it seemed not to have a tail at all, so I'm going with a mole or a short-tailed shrew. The hawk appeared to have difficulty holding onto it. Every time this young raptor would bend over to start tearing away, the whole thing would pop out of its grasp and fly up in the air. The hawk would then catch it in its talons and repeat the effort. It did this for about ten minutes, until it was finally able to figure out how to hold it securely. This small meal was soon devoured.
While this was going on, I slowly got in closer and was standing behind a tree directly across from where the hawk was. By this time, he had an audience of tram crew and other Garden staffers. All were now enjoying this magnificent hunter. He soon bounded onto a low branch where he was chased away by an angry squirrel.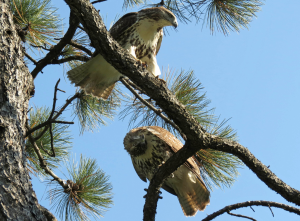 I came across the hawk later on by the Conservatory, sharing a tree with a sibling. I could tell it was my new friend because, in a close-up shot, I clearly saw rodent fur sticking out of its beak.
It's great to be able to witness these wonderful events of nature. The fact that I have a supporting membership at the NYBG is a plus, as I was able to get into the garden before it opened to the public with my early-mornings ground pass.
Ed. note: If you love The New York Botanical Garden, please consider becoming a Garden Member. And if, like Patricia, you love taking pictures at the Garden, please join our Flickr Group Pool!