Posted in Wildlife on July 21 2017, by Patricia Gonzalez
Patricia Gonzalez is an NYBG Visitor Services Attendant and avid wildlife photographer.
---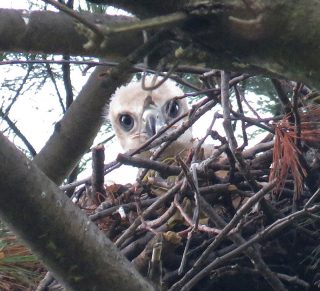 In 2017, we marked the occasion of two young Great-horned Owls fledging after having quite a few adventures during their stay in the Mertz Library nest. This was the same nest built by a pair of Red-tailed Hawks back in 2009, which also happened to be the last year that Red-tails nested at NYBG—until now.
I'm happy to report that there are now three fledgling hawks getting to know their way around our 250 acres. Special thanks to Debbie Becker, our eagle-eyed wildlife expert, for the news! Back in April, she spotted both parents flying overhead. They soon landed in a tree in a heavily wooded section of the Garden, which became their nest. The rest, as they say, is history!
I've been lucky enough to follow two of the fledglings around with my camera shortly after they left the nest. It's fascinating to watch them explore the Garden, and I look forward to watching them grow into effective hunters like their parents.