Fifth Avenue: 20 Days of the Holiday Train Show
Posted in Holiday Train Show on December 7 2011, by Matt Newman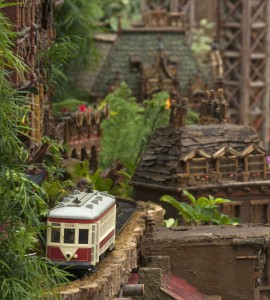 "As we explored, I continued telling her stories about each of the buildings I had been in that were depicted there in miniature…"
…
From now until December 17, our visitors will be sharing their fondest memories from 20 years of the Holiday Train Show–some of them touching, some comical, and every one of them cherished. Come back to Plant Talk each day for a new story, which you can see after the jump along with a feature on one of the many replica New York City landmarks on display in the Enid A. Haupt Conservatory–the Guggenheim Museum, Yankee Stadium, the Empire State Building and more.
As a bonus, read on to find out how you can win a Family Four-Pack of Holiday Train Show tickets for yourself!

---
My greatest memory was created a number of years past, when I brought my daughter, Morgan, in to see the Holiday Train Show. She is 14 now, so it must have been between eight and ten years ago.
As we went around looking at all the buildings, one of them turned out to be a model of a Bliss or Agnew family house on Fifth Avenue. I was able to point it out to Morgan and explain to her that it was the house of an ancestor of hers. As we explored, I continued telling her stories about each of the buildings I had been in that were depicted there in miniature, and she in turn brought the fascination of a young child as she gazed at the trains.
It was a very special day for us.
–Harry F.
---
Frick Collection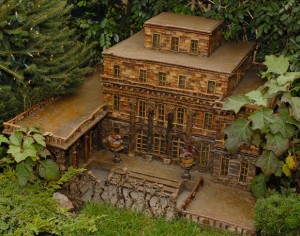 The Frick Collection is an art museum housed in Henry Clay Frick's East 70th Street mansion, a residence designed by Thomas Hastings and constructed in 1913. In the 1930s, John Russell Pope expanded the building so that it could easily be turned into a public institution.
While its courtyard and private gardens make the mansion a work of art in its own right, its collection of classic European paintings and sculptures makes it one of the most well-regarded small museums in the United States.
Enter to win 2011 Holiday Train Show Tickets
Click here for your chance to win a Four-Pack of tickets to this year's Holiday Train Show! We'll pick one lucky winner each day through December 17. Tickets valid for visits on select dates; read official rules by clicking here.