Sugar and Spice (and You Know the Rest)
Posted in Holiday Train Show on December 5 2011, by Matt Newman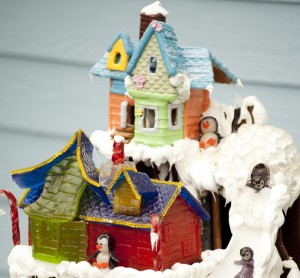 Walking up the path through the Everett Children's Adventure Garden, I noticed something hanging on the air that I haven't caught in a while. I don't mean the sound of kids giggling, though there's often plenty of that floating around if you simply stop and listen. It was something else. Something…decidedly unpumpkin.
Yes, it's that quintessential holiday potpourri: the smell of sugar and spice!
And I'm talking about authentic sugar and spice–not the cloud of cinnamon air freshener that tackles you as soon as you wander into a department store after Thanksgiving. It's the smell of evening baking sessions, bite-sized candy canes, and vanilla frosting, all part of the recipe to Gingerbread Adventures.

I still couldn't believe that even a good ten paces from the Discovery Center the air smelled so delicious. Once inside, I found the source of the aroma in a quartet of comical confections too fantastic not to share with all of you:
There's more than one way to build a gingerbread dog house.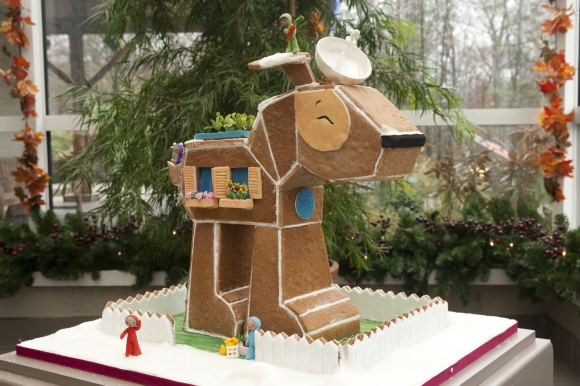 We were also lucky enough to get an inside look at the work that goes into creating one of these gingerbread masterpieces! Here, we visit Lauri DiTunno at Cake Alchemy:
Something tells me these bakers have had some practice; as a kid, I was so terrible at keeping the walls of my edible architecture upright that I'm surprised I never got a citation for building code violations. But while these gingerbread houses were entertaining all on their own, it got even better when I stepped into the Discovery Center's next room and promptly saw one of our guides holding a stalk of sugar cane over his head. I know, you'd think it was strange behavior if not for the children laughing hysterically around the table in front of him. It's all part of the fun, of course.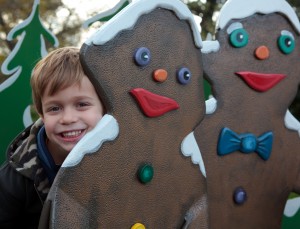 Bring your kids along for Gingerbread Adventures and they're welcome to join in as our experts show them the natural origins of cinnamon, ginger, and sugar. And as they learn their way around the sweetest holiday treat, they'll also get to dive head-first into making their own spices with a mortar and pestle (a mess may or may not result, but we're not complaining). Finally, there comes the finishing touch: decorating (not to mention eating!) their own gingerbread cookies.
If you happen to be dropping by to catch the glittering lights of the Holiday Train Show anytime between now and January 16, don't forget to pop over to the Everett Children's Adventure Garden for a little fun with frosting. We promise your kids won't hold the decision against you.