A Day at the Holiday Train Show
Posted in Around the Garden on January 4 2012, by Rustin Dwyer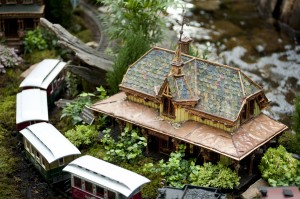 Taking the time for a trip to the Holiday Train Show is a family tradition New Yorkers have been revisiting for two decades–it doesn't matter how old you are! But if you've never had a chance to see it before, making this year's show your first visit might be one of the best ways to get in a little of that increasingly rare family time you've been looking for.
As we move through the last two weeks of holiday celebrations here at The New York Botanical Garden, we hope you'll take a day and stop by. You really can't know what you're missing until you see it for yourself.
There's still time to see the Holiday Train Show before it's gone! Be sure to reserve your tickets online.