Posted in Around the Garden, Learning Experiences on April 19 2012, by Daniel Atha
Daniel Atha is an Associate Editor of NYBG's systemic botany journal, Brittonia, and a researcher specializing in floristics, taxonomy, and economic botany. He has taught classes in anatomy and systemics at the Garden's School of Professional Horticulture and is currently working on a project to develop identifying DNA barcodes for plants of the Northeastern United States.
---
Nothing to Fear, but Fear Itself

Reynoutria japonica Houtt. (Japanese knotweed)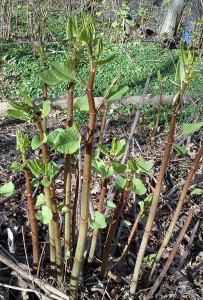 Godzilla-like, swaggering through our communities, Japanese knotweed is choking our waterways, breaking apart foundations, consuming whole houses and costing our cash-strapped economy millions of dollars per year in repair and mitigation. Ranked among the World's 100 Worst Weeds, it is illegal to propagate the plant in England. It's banned in Connecticut, Massachusetts, New Hampshire and Oregon and is considered a noxious weed in Alabama, California, Vermont and Washington.
What to do? Eat dessert! Yes, that's right: dessert! Enjoy a beautiful lime-green parfait and do your part to halt Godzilla in her tracks (the plants are mostly females). Here's how:
You'll need about a dozen knotweed canes, harvested when they're only about two feet tall–the thicker the better. Use a sharp knife and cut them off at the soil line. And don't tell me you can't find any! The plant occurs in 39 of the 50 states and is especially abundant on the east coast. No one will begrudge you for cutting them down. You can't even mistake them for anything else. No other plant in North America grows six feet tall from thick, hollow, fleshy stems that are swollen at the nodes, has large, green oval- or heart-shaped leaves and produces numerous sprays of off-white flowers and small, winged fruits late in the season.