Monet: Artist and Gardener
Posted in Monet's Garden on May 8 2012, by Sonia Uyterhoeven
Sonia Uyterhoeven is the NYBG's Gardener for Public Education.
---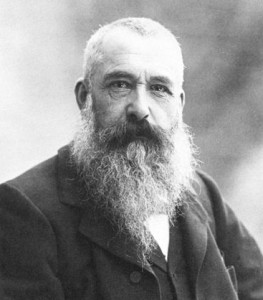 This year we are celebrating the life of the artist and gardener, Claude Monet. From May 19th until October 21st you will find our show houses, water lily pools, and exhibition galleries re-creating and displaying pieces of the famous Impressionist's life.
The artist's palette, photographs, and records of his famous garden–as well as two rarely seen paintings of irises–will be on view in our Library's exhibition gallery. Our Ross gallery will display photographs of Giverny through the seasons, produced by an American gardener who was involved in the restoration of the legendary garden.
Our show houses and water lily pools will capture the essence of Giverny, including the iconic Japanese foot bridge and his Grand Allée. Throughout the summer we will discuss Monet as an artist and gardener, taking a look at his use of light and color in the garden and exploring some take-home lessons from his design strategies and gardening techniques.

Monet broke from the convention of his time by painting en plein air. The outside world became his studio. This was in part possible through the invention of oil paints in tubes. Monet would find a spot that he was interested in painting and set up his canvas. If the canvas was large, he would dig a trench to lower it into so that he could paint the top of the picture without moving and changing his viewpoint.
Monet worked directly on the canvas without making a preparatory sketch. His goal was to capture the moment. He was interested in the changing light on the landscape. The renowned French writer Guy de Maupassant described Monet as a 'hunter,' who waited and watched for the sun and the shadows.
Monet often chose a motif and then worked on multiple canvases, rotating the canvas whenever the light and the weather changed. Monet's eye for color was connected with his fascination with light and atmosphere. In 1886, Monet took a trip to Holland to visit the bulb fields near The Hague. He was overwhelmed by the brilliant blocks of color. This visit transformed the way the artist used color in the garden. The depictions of the artist's travels show canvases filled with sunlight, clouds, and fields of luminous color.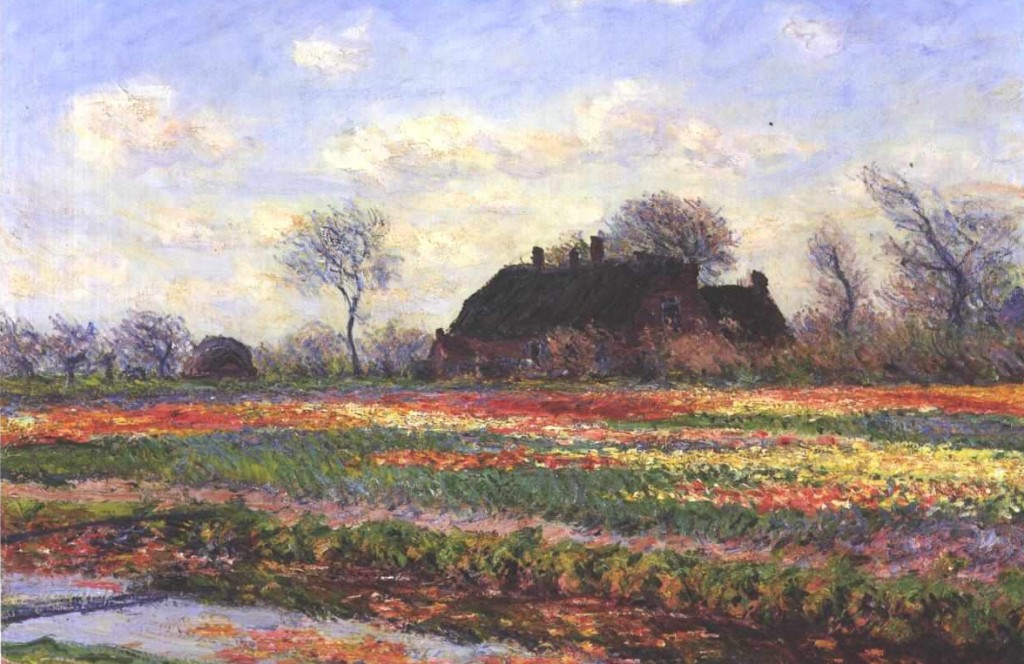 Monet never mixed colors before applying them to his canvas. Instead, colors were mixed optically in his work. He either placed them side by side or he painted in layers, superimposing one color over another. Applying pure color side by side was a technique used by pointillists to create form and color blends. For example, red and blue placed side by side will visually merge and create purple.
Painting layer upon layer can either be done when the paints are wet or dry. Artists have a technique called "scumbling" in which one color is painted thinly over another, allowing the lower layer to shine through. Both techniques give the colors depth and texture that they normally would not have if they were traditionally blended together. Colors appear brighter and more vivid; they almost seem to vibrate. Monet exploited these two artistic methods to create light and atmosphere in this work.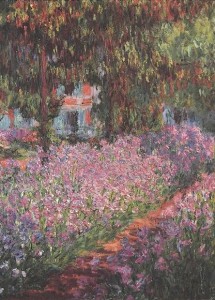 In 1883, Monet moved into Giverny, a property that he eventually purchased in 1890. The garden was an old apple orchard situated in the valley of the Seine, where the morning mist rolled through the garden. Over the years, Monet transformed the property into a living masterpiece. His knowledge of color theory and his predilection for light and nuance fueled the project.
Next week we will begin to explore how Claude Monet captured and enhanced light and atmosphere in his garden through creative planting techniques.
To be continued…
---
Images courtesy of Wikimedia Commons.