Posted in Exhibitions, Monet's Garden on October 9 2012, by Sonia Uyterhoeven
Sonia Uyterhoeven is the NYBG's Gardener for Public Education.
---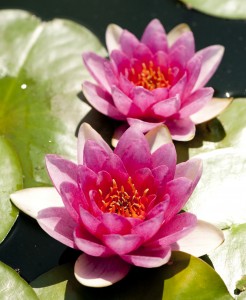 For centuries, water lilies have been thought of as emblems of purity and beauty. Philosophers marveled at how a stunning, symmetrically perfect flower–sometimes with a sweet, subtle perfume–was capable of arising from such muddy waters. But if the pristine blooms and large, glossy lily pads give the illusion of cleanliness, every gardener who has ever reached down into a pond to deadhead a spent bloom will attest to the fact that underneath the façade of exquisite beauty is a slimy mess.
As we approach the end of our Monet's Garden exhibition (Sunday, October 21), the water lily display–one of the centerpieces of the show–is still in its full glory. But while this exhibition took its inspiration from Monet's garden at Giverny, the artist found his love of the flower elsewhere. Monet's water garden was transformed when he met Joseph Bory Latour-Marliac, the son of a wealthy, landowning French family. After studying law in Paris, Latour-Marliac returned to his home near Bordeaux to help his father manage his property. As an avid botanist, he soon developed a vast network with horticultural societies and botanists throughout the world.