Big, Bigger, and Biggest take Rhode Island
Posted in Color Report, Video on October 17 2012, by Matt Newman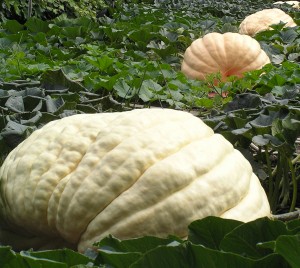 Even at nearly a ton, it doesn't take a town to raise a giant pumpkin. But it might take a town to lift one! Fresh off his record-smashing win in Massachusetts, grower Ron Wallace was back in his home state of Rhode Island recently to have a go at one-upping the benchmark set by his own 2009-pound pumpkin in September. Hundreds turned out for a bucolic romp through Frerichs Farm in the town of Warren, hopping hay rides, bopping to live music, and showing off their mighty produce while pumpkin growers from around the northeast gathered to throw their weight around.
While the mood may have been light, the subject matter was anything but.
Ron's second contender for the crown had estimates predicting a weigh-in somewhere around 2100 pounds, which explains the forklift needed to hustle this hefty squash around. But while hopes were holding high, the plump pumpkin fell just short of the record with a final weight of 1872 pounds; it may sound like a big difference, but at their peak these pumpkins put on 35 pounds a day. Still not at all shabby, considering it's the second-heaviest pumpkin ever grown. Ron not only maintains his rank as the Pumpkin King (don't tell Jack Skellington) with the 2009-pound beast under his belt, but he'll also be making his way to The New York Botanical Garden this weekend to join us for our Haunted Pumpkin Garden carving event. That's with his Ocean State heavyweight in tow, naturally.


With Ron's pumpkin in the mix, we're set to kick off the Garden's Halloween centerpiece on Friday, October 19 at Grand Central Station, where Ray Villafane and his partners in crime will make the first cuts toward creating this year's farm-grown zombie masterpiece. The festivities then shamble to the NYBG on October 20 and 21, where the team will sculpt, hack, scoop and scrape a few of the world's heaviest pumpkins (Ron's included) into a horror show unlike anything you've ever seen. We're nudging everyone to stop in and watch Ray's monsters in the making–seeing is definitely believing when it comes to someone climbing inside a pumpkin to get all the seeds out. For scheduling, check out our event page.