Garden News: Holiday Train Show Picks Up Speed
Posted in Holiday Train Show on December 10 2012, by Matt Newman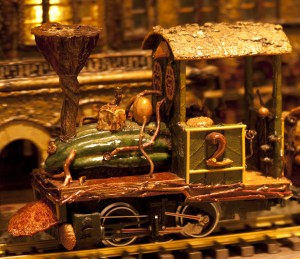 We're now into weeks three and four of this year's Holiday Train Show, and as you'd expect, we can't help but gather momentum from here on out! Thousands of fans have already toured this year's exhibition, walking the paths between dozens of nostalgic miniatures and beneath the many bridges recreated by Paul Busse and his team at Applied Imagination. The crowds are certainly growing as we get into the December holidays, so you may want to consider grabbing up tickets sooner rather than later. But there's more to the season than what you see under the glass of the Conservatory, as Kevin Character explains below.


Beyond the Conservatory doors, you'll find 250 acres of fall landscapes to explore, whether it's escaping to the solitude of the 50-acre Forest, or catching the last of the cool-weather colors peeking from our many outdoor collections. Afterward, hit the Everett Children's Adventure Garden for some delectable cookie decorating with your kids, care of our ever-popular Gingerbread Adventures.
And don't forget the Shop in the Garden! The holiday gift rush is so often a chore; you can bet we'll be crossing off a few greenthumbs on our shopping lists with the wide selection of gardening goodies. And for those who are looking to pass on their love of the Garden to friends and family, I don't think I can talk up this year's Membership gift basket enough–though Kevin certainly does a good job of it.
We'll be keeping pace with the ongoing holiday events as they continue into winter, so keep it here on Plant Talk for more!