Garden News: Orchid by Orchid
Posted in The Orchid Show on February 25 2013, by Matt Newman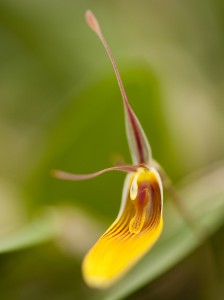 With less than a week between now and the opening of our 11th annual Orchid Show, it seems as good a time as any to poke our heads inside the Enid A. Haupt Conservatory and see what's what with our hard-at-work horticulturists! There are literally thousands of exotic orchids to arrange in time for the March 2 opening, and with Tropical Paradise only just packing it in for the year, our staff is rising to the challenge of kicking off this yearly favorite with a proper bang.
All hands are on deck to make our naturally-inspired display the most colorful and gratifying experience you'll have in New York City this spring. And few know the ins and outs of this complicated process like Christian Primeau, Manager of the Enid A. Haupt Conservatory. Working along with the curatorial expertise of Vice President of Glasshouses and Exhibitions, Francisca Coelho, Christian and the rest of the team are implementing stunning designs, plant by plant, with an eye for both color and natural arrangements. But these wouldn't be quite the same without an unforeseen addition to our exhibition: a few of the 300 Garden trees affected by Hurricane Sandy this past October.

Second chances are rare, but in the case of these once-majestic trees, they'll live on for at least a while longer as part of the most elegant scenery in the five boroughs. Kevin Character recently visited for a chat with Primeau about the process of piecing this botanical juggernaut together. Have a look!
Now in its 11th year, The Orchid Show opens March 2, 2013, running straight through April 22 with plenty of opportunities to see our favorite flowers in action. And keep your schedule clear for cocktail evenings, expert lectures, and plenty of other activities hanging out under the umbrella of this long-awaited exhibition! Tickets go quickly, so it's best to register for your chosen day (or days!) sooner rather than later.