Orchid Evenings: Perfection, Shaken
Posted in The Orchid Show on March 7 2013, by Matt Newman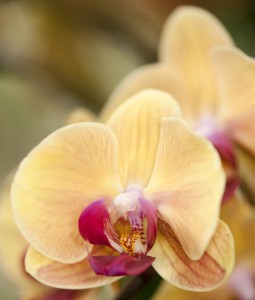 Cocktail umbrellas are kitschy. That slice of citrus rimming your highball glass–quaint. But there can be so much more to an imaginative drink, and that goes far beyond what's poured into it! Returning for another year of glitzy, romantic nights on the town, Orchid Evenings in 2013 are prepped and ready to turn the Enid A. Haupt Conservatory into a hub of tropical escapism, complete with color, music, and just enough tasty tipple to set the tone for a perfect date.
During five Saturday evening gatherings throughout March and April, the Conservatory opens its doors for a few rare, after-dark viewings of our magnificent Orchid Show, sans daytime crowds. DJ Julio will be on hand to provide the ambiance with traditional world and electronic music, while bespoke cocktail creations from the likes of St. Germain, Tirado, Jack From Brooklyn, El Buho, and LiV cap each evening with a worldly spirit mixed right. Under tens of thousands of blooms from around the globe, lit with the soft glow of the Conservatory at night, we dare you to find a more romantic spot to ring in spring in New York.

Running between 6:30 and 9 p.m. on Saturday nights, each Orchid Evening begins with a complimentary cocktail and a viewing of our Conservatory's sprawling orchid display, while a cash bar with drinks and snacks will be available for anyone looking to keep the evening moving. And if you'd like to get a head start, MasterCard holders are invited to sign up for one of our champagne pre-parties, taking place in the Shop in the Garden each night from 5:30 to 6:30 p.m. After all is said and done, you can top off the night with a brief ride over to nearby Arthur Avenue, where the NYBG has partnered with several renowned restaurants to offer dinner discounts with your Orchid Show ticket. Soup to nuts (so to speak), we're covering all the bases!
There are so many vandas, cymbidiums, moth orchids and more on display that I figured you could use a reminder as to what you're looking forward to. So, without further ado…
With only five opportunities and limited spaces on hand, registering for your Orchid Evening tickets in advance is a must! The Orchid Show continues from now through April 22, with numerous events and activities scheduled to help New York explore the exotic, elegant, and at times mysterious world of this famed flower. Don't miss out!