In the Meadow
Posted in Video on July 31 2013, by Matt Newman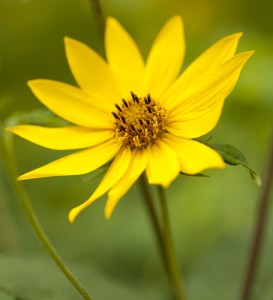 The come-and-go summer heat may be a bummer for some of us here in the city, but not so in the Native Plant Garden's flourishing meadow, where spikes of purple blazing stars and sunflowers of all sorts bask day in, day out with the bees, dragonflies, and birds that come to visit. The effect is one of a brightly-colored painting with a lot of air traffic. But foot traffic is welcome, too! Now is the ideal time to see the Native Plant Garden's swaying grasses and flowers in peak summer form.
Kevin Character recently stopped in to chat with Kristin Schleiter, our Assistant Vice President for Landscape Gardens and Living Collections, where she got us caught up on the two-year process behind the meadow's planting—from its start as a meandering collection of scrappy sprouts to the elegant sea of green that it displays today.
While there's certainly a wild quality to the Native Plant Garden, trust me when I say that everything planted there was carefully chosen to demonstrate local flora, native planting techniques, and a year-round beauty that shines through whether you're here in July or November. Still, missing the meadow in such rare form would be a shame!