In the Family Garden: Palling Around with Pollinators
Posted in Video on August 28 2013, by Matt Newman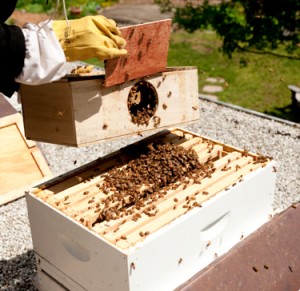 It's a tiny industry of flitting and buzzing that calls the Ruth Rea Howell Family Garden home late in summer, and you know we never miss out on a chance to celebrate something. Plus, pollinators are important! At some point, most of the fruits and vegetables that land on your plate benefit from the busy activities of these nectar-nursing bugs. That goes just as well for the edibles growing in the Family Garden.
Bring the kids along and join us through October 11 to learn about these important insects, such as the honeybees coming and going from our rooftop apiaries, and the monarch butterflies making pitstops in the Garden on their way to Mexico for the winter. Our experts—often the same people who don those odd bee suits to retrieve our homegrown honey—will show you the inner workings of a beehive and offer samples from different nectar sources. In the meadow, you'll find monarchs fueling up on nectar before taking to the skies for their marathon flight. And even if bugs aren't your bag, there's always a hands-on activity to dive into.
In any case, maybe our Family Garden queen bee, Annie Novak, can give you a better idea of what the pollinators are up to these days.