This Weekend: Choo Choo! It's Holiday Train Show Time!
Posted in Around the Garden on November 15 2013, by Ann Rafalko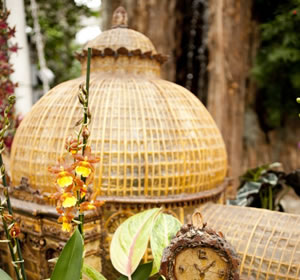 Alllllllllll aboard! It's time for the most anticipated event of the year! It's Holiday Train Show time! This beloved holiday event under the glittering domes of the Enid A. Haupt Conservatory opens to the public on Saturday, November 16, for another magical run through January 12.
This year we're bringing you more trains than ever and a new dining experience, along with all the twinkling lights, magical ambiance, and buildings created entirely from plant materials you have come to know and love. The Holiday Train Show has become a beloved holiday tradition for New York-area families for a reason; it's a delightful time for the young and the young at heart!
If you're visiting the Train Show from the city, why not make a train-filled day of it by taking Metro-North Railroad to Botanical Garden Station from beautiful Grand Central Terminal? Public transportation is one of the easiest ways to visit us at this very busy time of year, and your train-obsessed little ones will love the additional train time!
The Holiday Train Show is one of the hottest tickets in town, especially during holiday weekends. So avoid disappointment and book your tickets now. Tickets are for timed entry. Additionally, while stroller parking is available, strollers and tripods are not allowed in the Enid A. Haupt Conservatory, so if you're bringing along a wee one, be sure to pack your favorite baby carrier.

---
Saturday, November 16


Bird Walk – 11 a.m.
Meet at the Reflecting Pool at the Leon Levy Visitor Center
The diverse habitats of the Botanical Garden offer visitors a chance to see dozens of species of birds throughout the year. Bring your binoculars and walk the Garden grounds with an expert to learn about bird-friendly habitats, migrating species, and birds that make a permanent home at the Garden.
The LuEsther T. Mertz Library Building: An Architectural Tour – 12:30 (with ASL interpreter) and 2:30 p.m.
Meet in the Orchid Rotunda
Join us for a guided tour of this historically significant structure. Learn about how it complements our magnificent landscape and discover the ways this space is used to promote and advocate for the plant kingdom
Holiday Tree Lighting – 4 – 5:15 p.m.
In the Visitor Center
Kick off the holiday season! View the lighting of a stunning conifer display by special guests, and join in an old- fashioned sing-along with the Westchester Chordsmen featuring carols from many traditions.
---
Sunday, November 17


Native Plant Garden Tour – 12:30 & 2:30 p.m.
Meet at the Reflecting Pool at the Leon Levy Visitor Center
Join a tour guide for an insider's view of the newly designed Native Plant Garden. Enjoy a mosaic of nearly 100,000 native trees, wildflowers, ferns and grasses designed to flourish in every season.
---
Ongoing Children's Programs

Holiday Adventures in the Everett Children's Adventure Garden
The Everett Children's Adventure Garden is open all day for exploration and kids can participate in a scavenger hunt, explore Holiday Train Show Houses, and play in the Greenhouse. Guided activity times follow the schedule below.
Weekdays, November 15 – December 20 / January 2 – January 12
Guided Activities: 1:30 p.m. – 5:30 p.m.
Weekends, November 15 – January 12
The Holiday Train Show continues in the Everett Children's Adventure Garden, where kids can embark on a journey through a variety of activity train station stops, including an artist's station, an engineer's station, and a builder's station, as well as an educational display of Holiday Train Show houses. Each weekend brings even more fun with holiday parades and Ralph Lee's Artist Station, a craft studio for families featuring train landscapes and materials kids can use to create their own trains, people, and animals to inhabit the scene!