Treasures of New York Spotlights the Holiday Train Show
Posted in Holiday Train Show on November 19 2013, by Matt Newman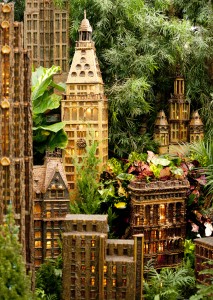 It's been over two decades since we first introduced New York City to the Holiday Train Show, and in that time we've pieced together one of the most impressive collections of miniature architecture ever seen—a cityscape of over 150 cherished landmarks hosting a constant parade of large-scale model railway trains. But the buildings don't come ready-made out of a box; the bridges aren't raised overnight, and the tracks can't find their way without helping hands. It's an enormous undertaking to unveil this seasonal treat each year, and thanks to our friends with THIRTEEN NY, the premiere of Treasures of New York: Holiday Train Show is throwing a well-deserved spotlight on all that hard work.
From American steam engines, subway cars, and modern freight trains to the natural architecture itself—each building painstakingly assembled using natural components like leaves, twigs, and bark—Treasures leads the viewer on a tour through the entire holiday production. You'll join artist Paul Busse in Alexandria, Kentucky, where his Applied Imagination workshop has been crafting uncanny models of New York's famous buildings since the Holiday Train Show first opened in 1992. Back then, our collection of models barely made up a tiny neighborhood—a far cry from the dozens of models that now call the Enid A. Haupt Conservatory home, surrounded by over a quarter-mile of G-scale train tracks.

Inside the Conservatory itself you'll see the many parts of this beloved show put in place by our team of horticulturists, visiting model makers, and other experts. It's more involved than you might think! Check out the Treasures preview below:
Treasures of New York: Holiday Train Show premieres Tuesday, November 19 at 10:30 p.m. on WLIW21. But if you can't find time to watch it tonight, there are plenty of other opportunities to see the broadcast on THIRTEEN NY before the special is made available online:
Thursday, November 21 — 10:30 p.m.
Sunday, December 15 — 7:30 p.m.
Tuesday, December 17 — 10:30 p.m.
Saturday, December 21 — 6 p.m.
Sunday, December 22 — 2 & 11:30 p.m.
Think of this as an opportunity to prepare for an in-person experience with this charming holiday tradition. And don't miss out on tickets for your preferred day. With peak holiday dates just over the horizon, many opportunities to see the Holiday Train Show will sell out early!