Raise a Glass to the Holidays
Posted in Holiday Train Show on December 2 2013, by Matt Newman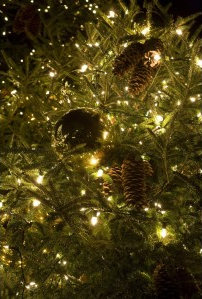 Everything's that much better under a twinkling glow, and the Holiday Train Show is no exception. On Friday and Saturday nights this week, December 6 and 7, we're turning down the lights and turning up the festivities with the first of this season's Bar Car Nights. And if you've never been to one, just think of it as a chance to experience our dozens of miniature landmarks and model trains in an entirely new atmosphere—one highlighted by the cocktails and mellow tunes that make for a perfect evening in New York.
We'll have a professional photographer on hand to capture some memories (because who wants to carry a point-and-shoot when clutch real estate comes so dear?), and new this year, you're welcome to head outside to the Conservatory Courtyard for a live ice carving demonstration from Okamoto Studios. Their expert artists join us to turn enormous blocks of ice into all manner of holiday art, from trains to Garden landmarks and more.
Across the way in the Holiday Dining Pavilion, Stephen STARR Events will be cooking up a storm from a New York-themed menu celebrating everything delicious about historic NYC street food. Though if you're looking to make the night last even longer, hold onto your Bar Car Night ticket stub: we've got partnerships with a number of gourmet restaurants offering discounts and bonuses for those who join us, all of which you can find listed here.

Of course, these evenings wouldn't be quite right without a complimentary themed cocktail! This Friday's specialty, the "Pomegranate Sparkler," balances rich orange and prosecco notes with the tart, sweet flavor of pomegranate for a warming holiday twist on the classic mimosa. And on Saturday night, Black Dirt Distillery and Brooklyn Gin team up to create "The Local's Express," a cocktail pairing American Fruits Distillery Bartlett pear liqueur and effervescent local gin for a flavor true to the local New York fruits and botanicals put into it.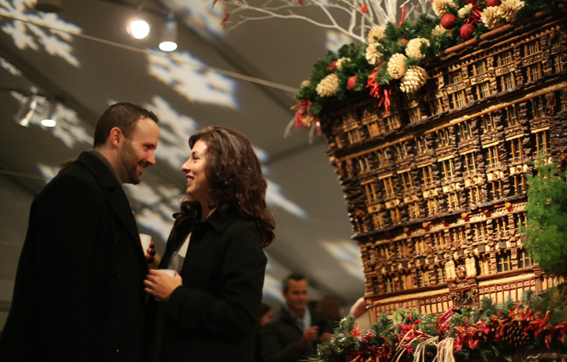 Because these evenings invariably sell out (we actually added a few extra dates this year to accommodate this), it's best not to let this event become a last-minute decision. Register your tickets early! If you're coming for the Saturday evening event and you happen to be a MasterCard customer, you can also check out tickets that include our Priceless NY champagne pre-party in the Shop in the Garden. And don't forget that we're partnering with Uber this year to provide special discounts for rides to and from The New York Botanical Garden on these special occasions—check out Bar Car Nights for more information.