In the Company of Orchids
Posted in The Orchid Show on March 19 2014, by Matt Newman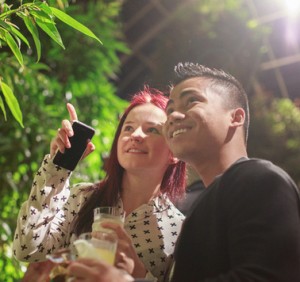 Realizing that you don't have to get up early on Sunday morning is a singular sort of joy, I think. It means you're free to do whatever you feel like on Saturday night! And because we have as much of a soft spot for drinks and music as anyone, we're once again opening our gates to the party scene this weekend. If you're up for cocktails and chill rhythms under the lights and color of the Conservatory, our latest Orchid Evening is your destination.
Tickets are still available for the event kicking off this Saturday night, March 22, and this time around we're pairing the flamboyant Key West color of 2014's Orchid Show with the equally effervescent flavors of orange, prosecco, and pomegranate. Think of the Pomegranate Sparkler as a drink for people who want all the flavor and none of the tedious peeling. Better yet, if you've got a MasterCard, you can make an even bigger night of it by attending our Priceless NY pre-party in the NYBG's Shop in the Garden with champagne and special discounts on a wide selection of live orchids.

Victor Chu was on hand this past Saturday night with his camera in tow, meaning we've got a stack of great photos of the party in action. Have a look to get an idea of what you've been missing out on!
This slideshow requires JavaScript.
Orchid Evenings continue throughout the run of The Orchid Show: Key West Contemporary, with events planned for March 22 and 29, as well as April 5, 12, 18 and 19. Tickets do tend to disappear quickly, so please consider registering early if you plan to attend. And for those who aim to keep the night going well after you've strolled through The Orchid Show, have a look at our special restaurant partnership offers for some ideas!